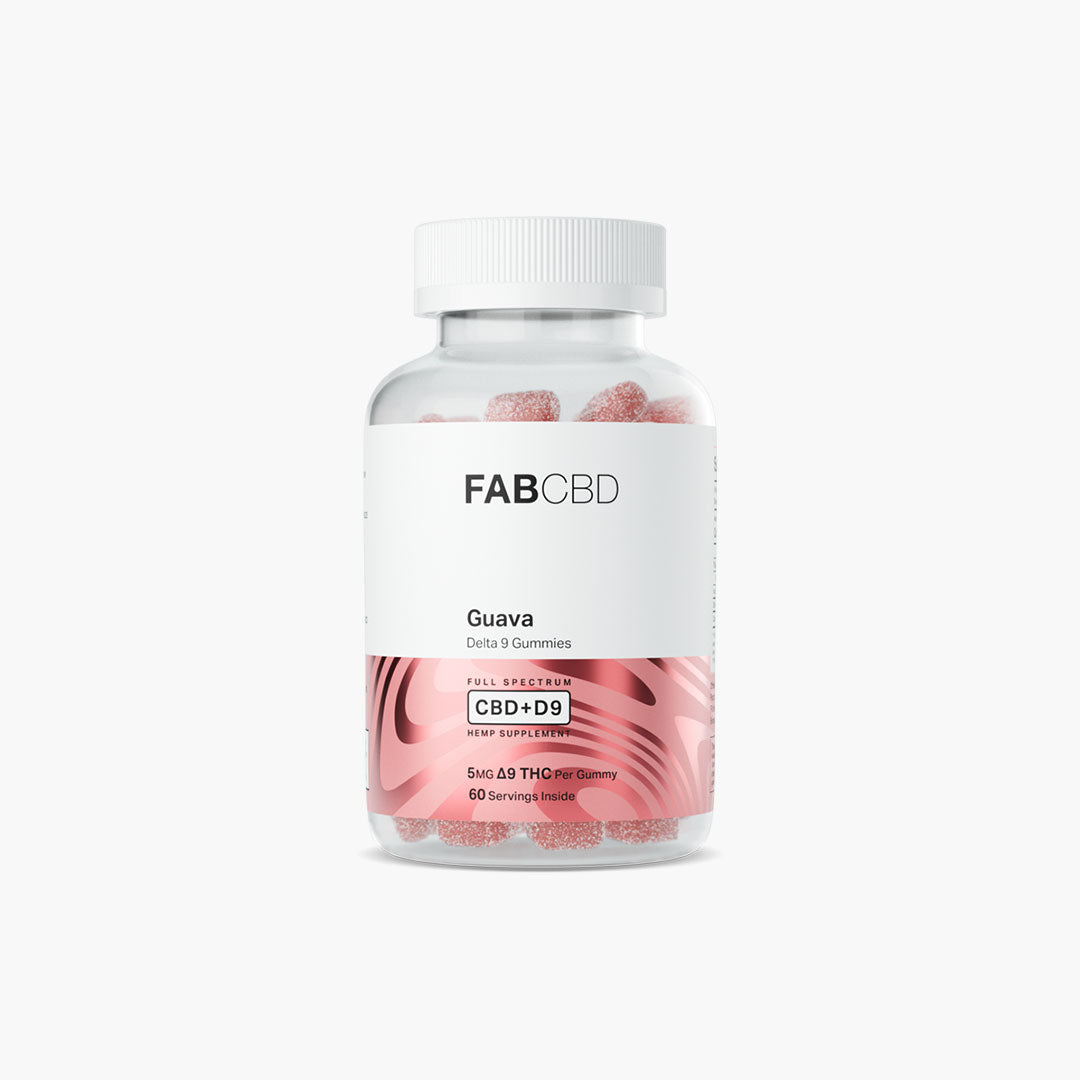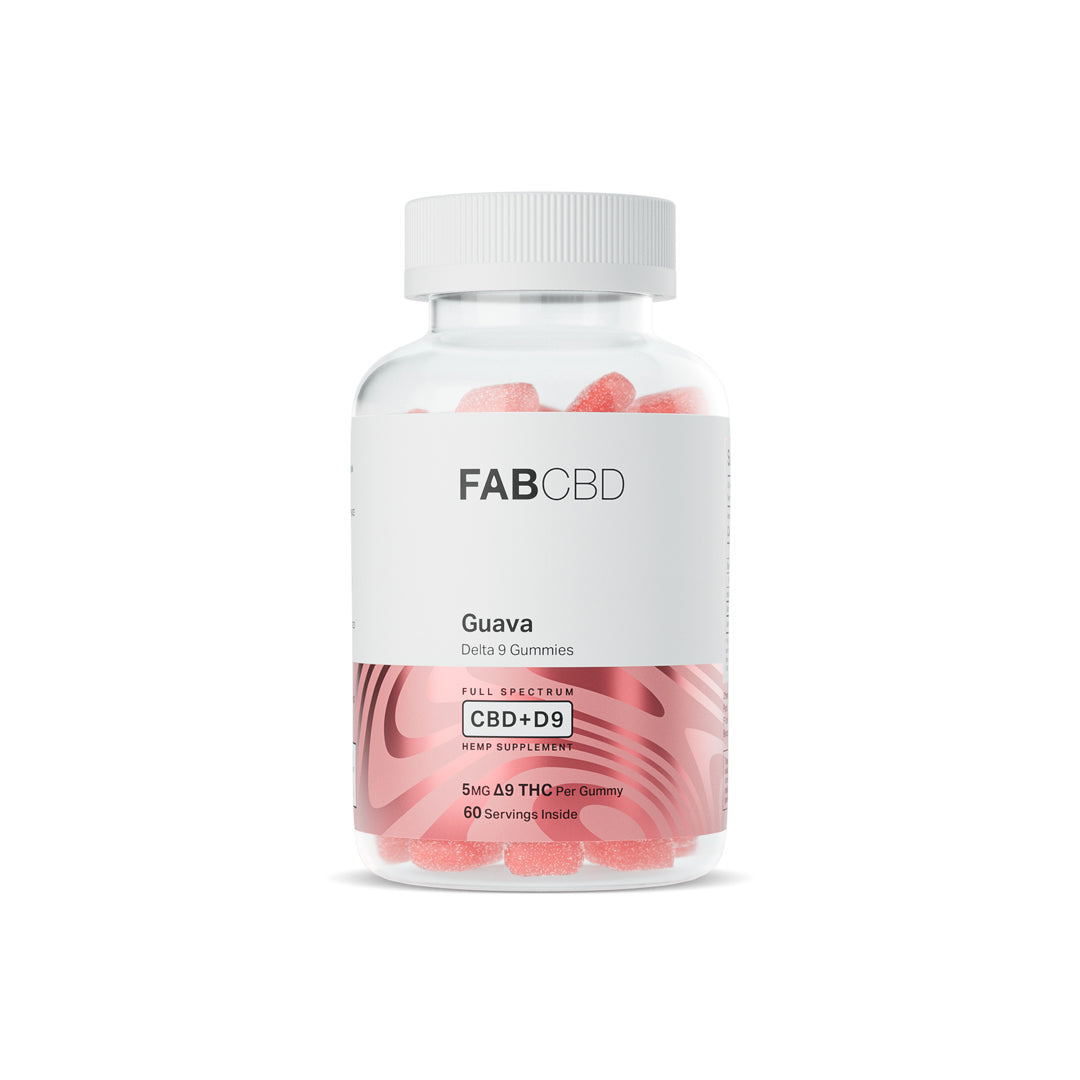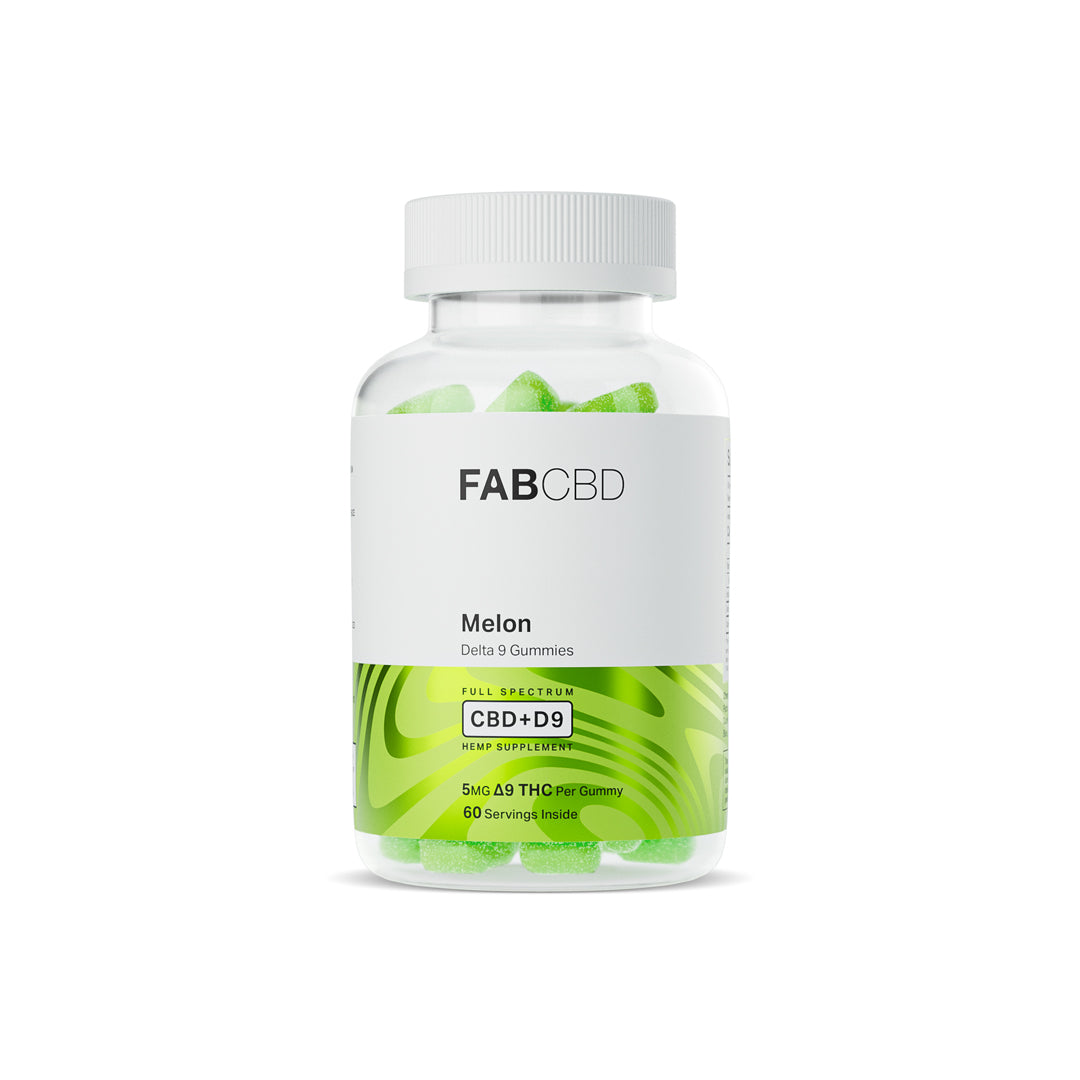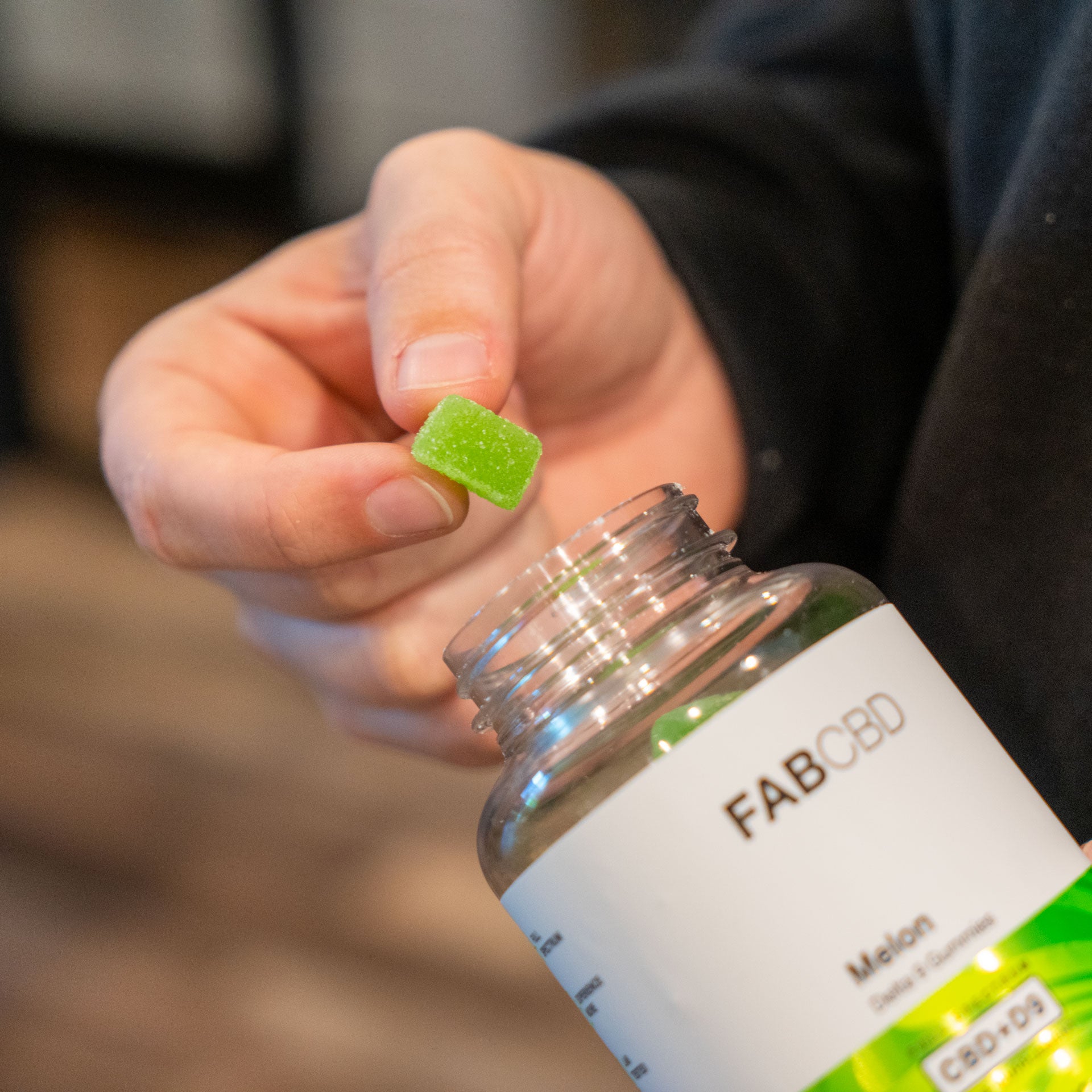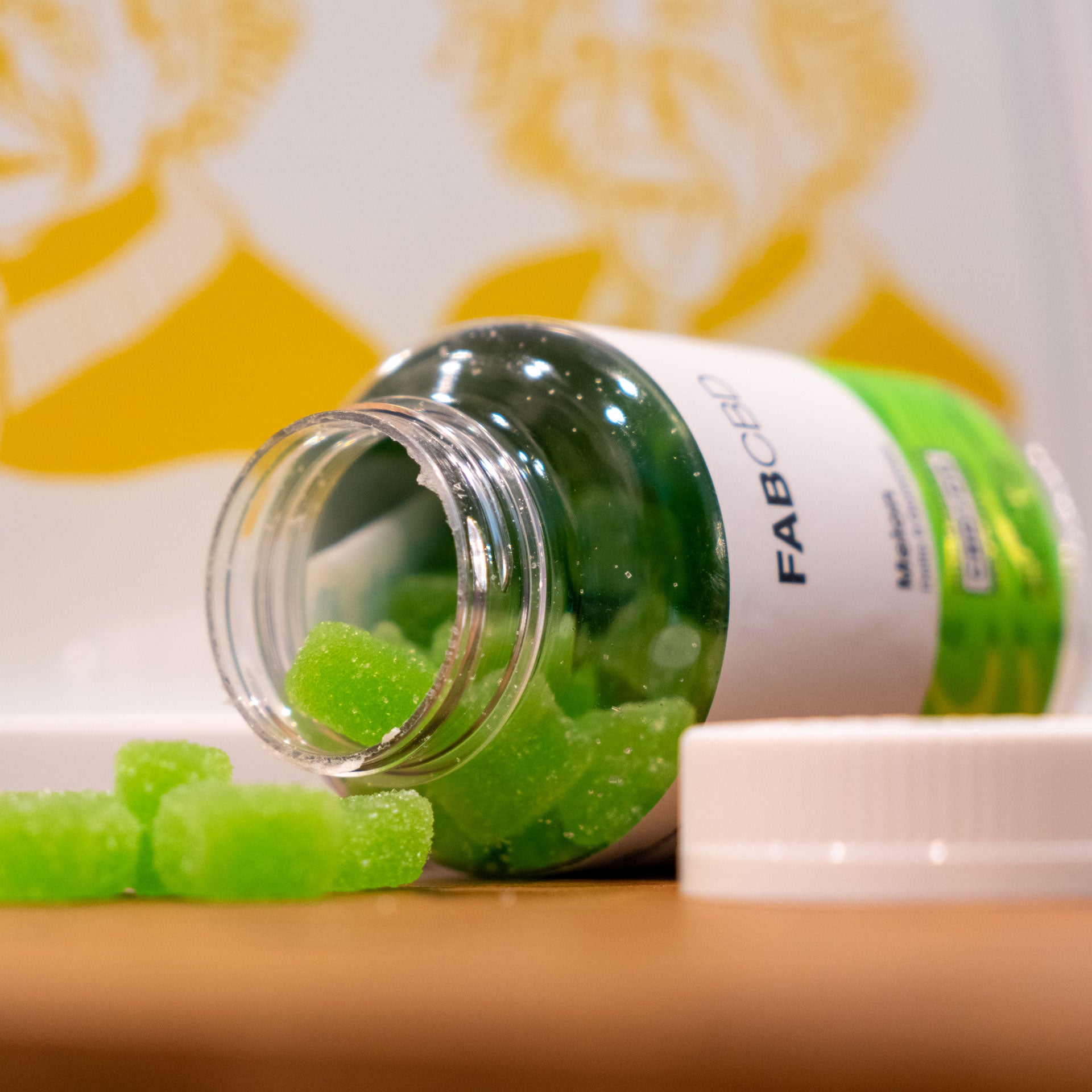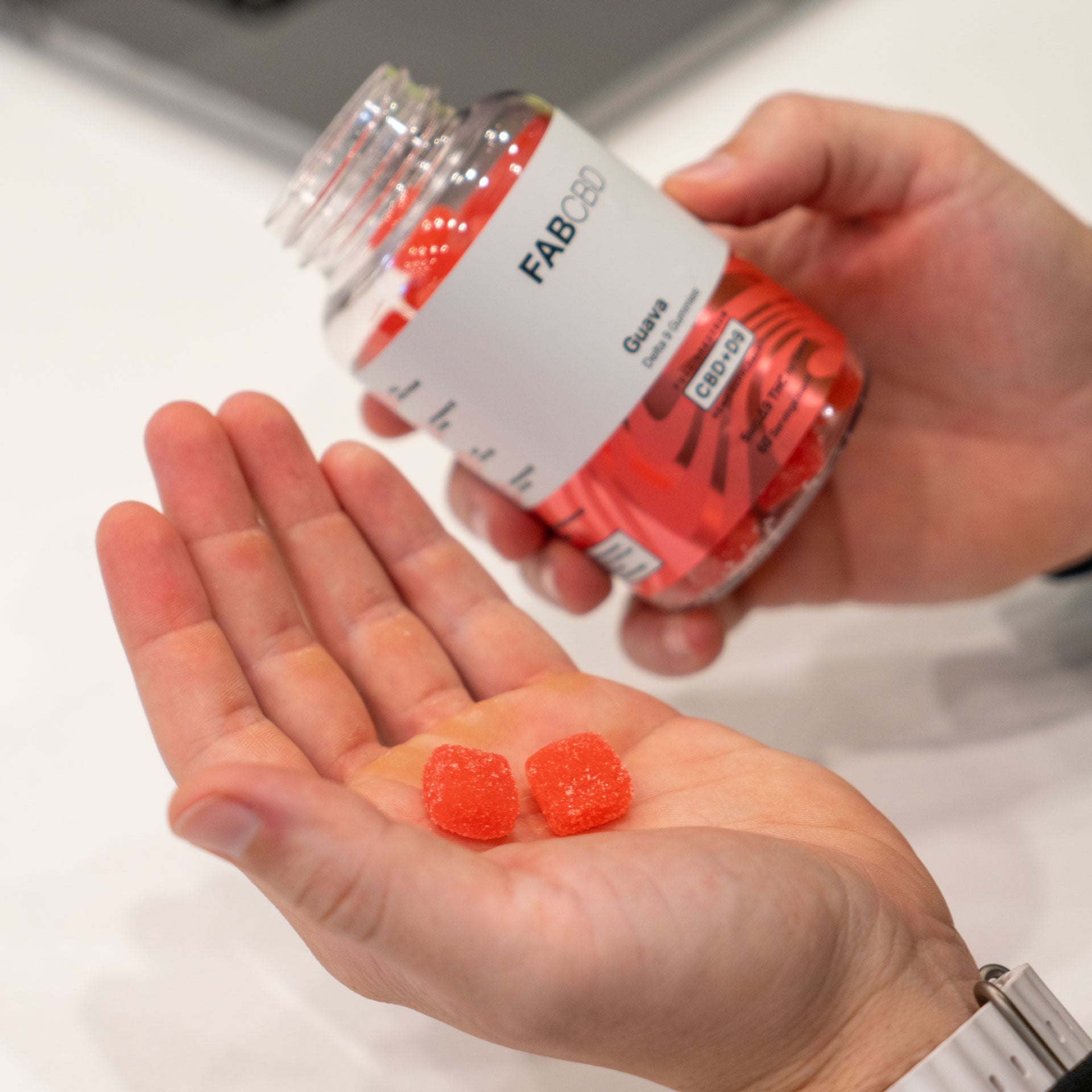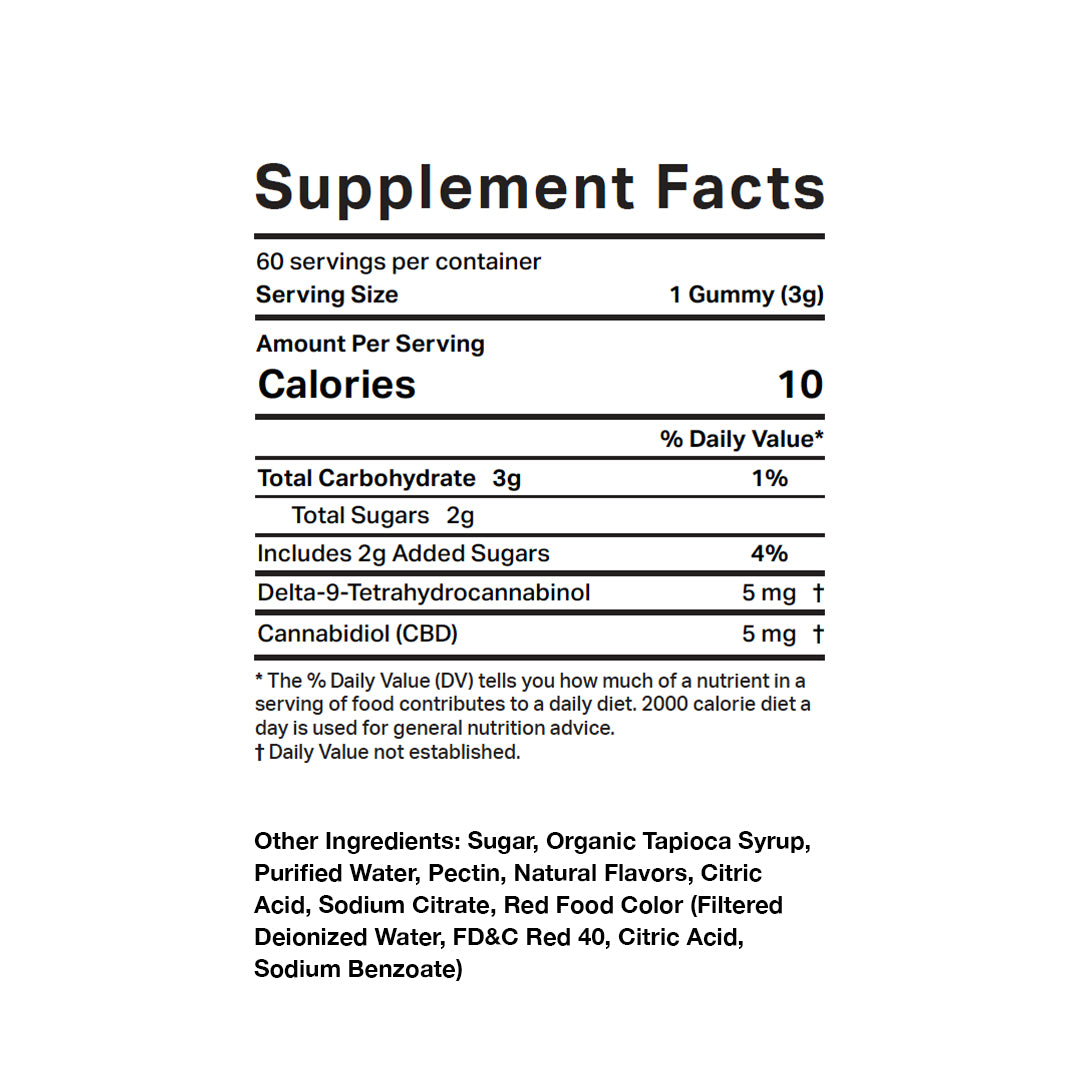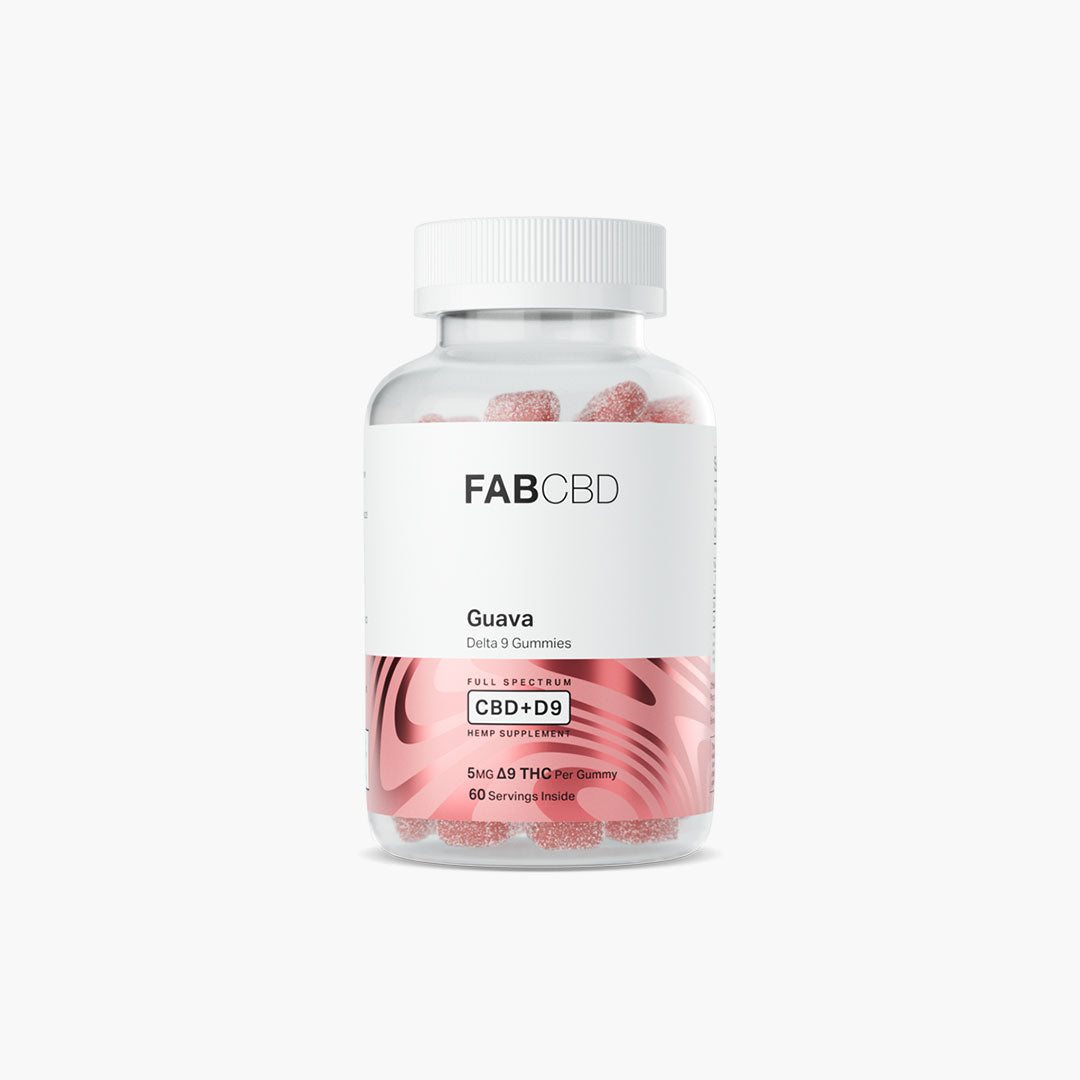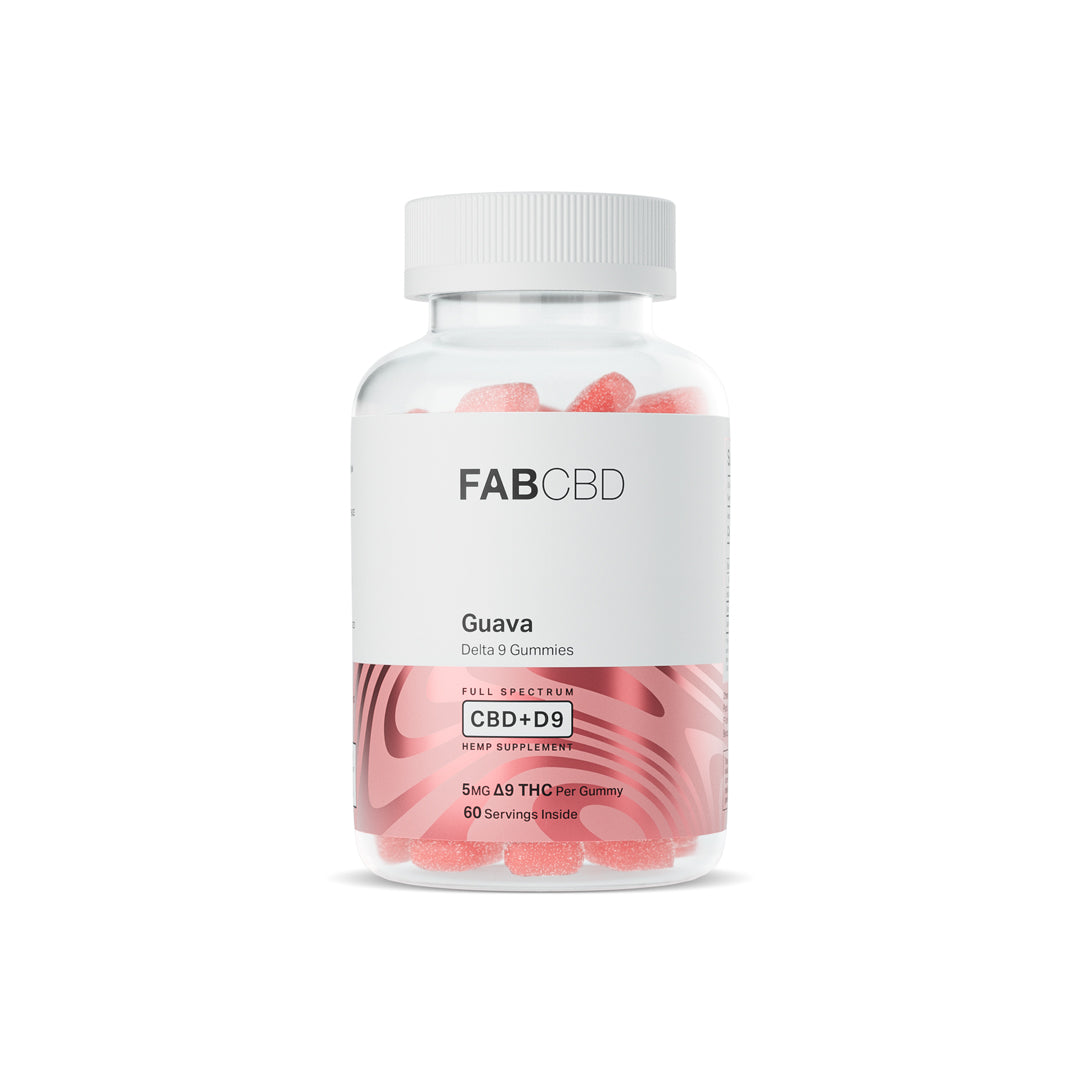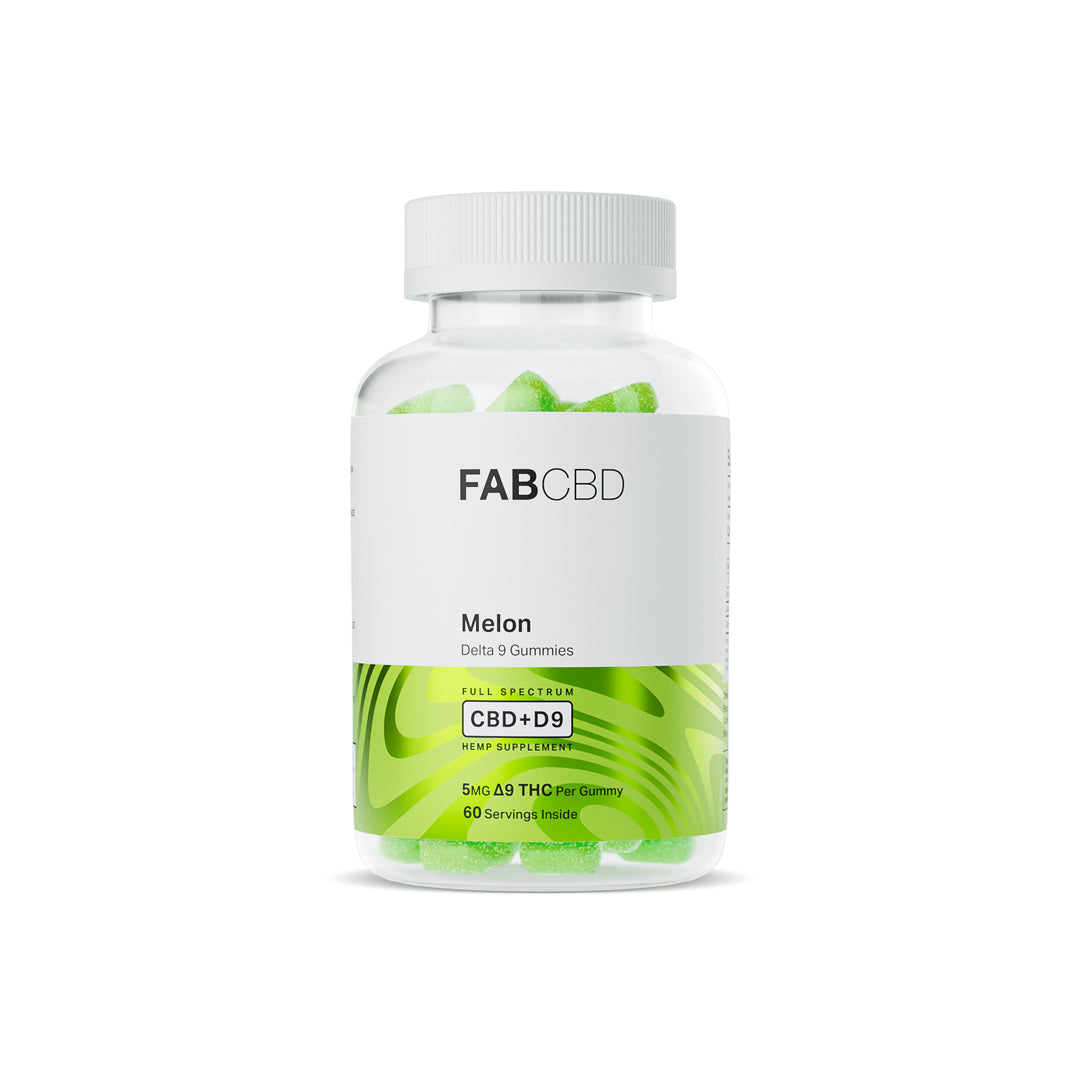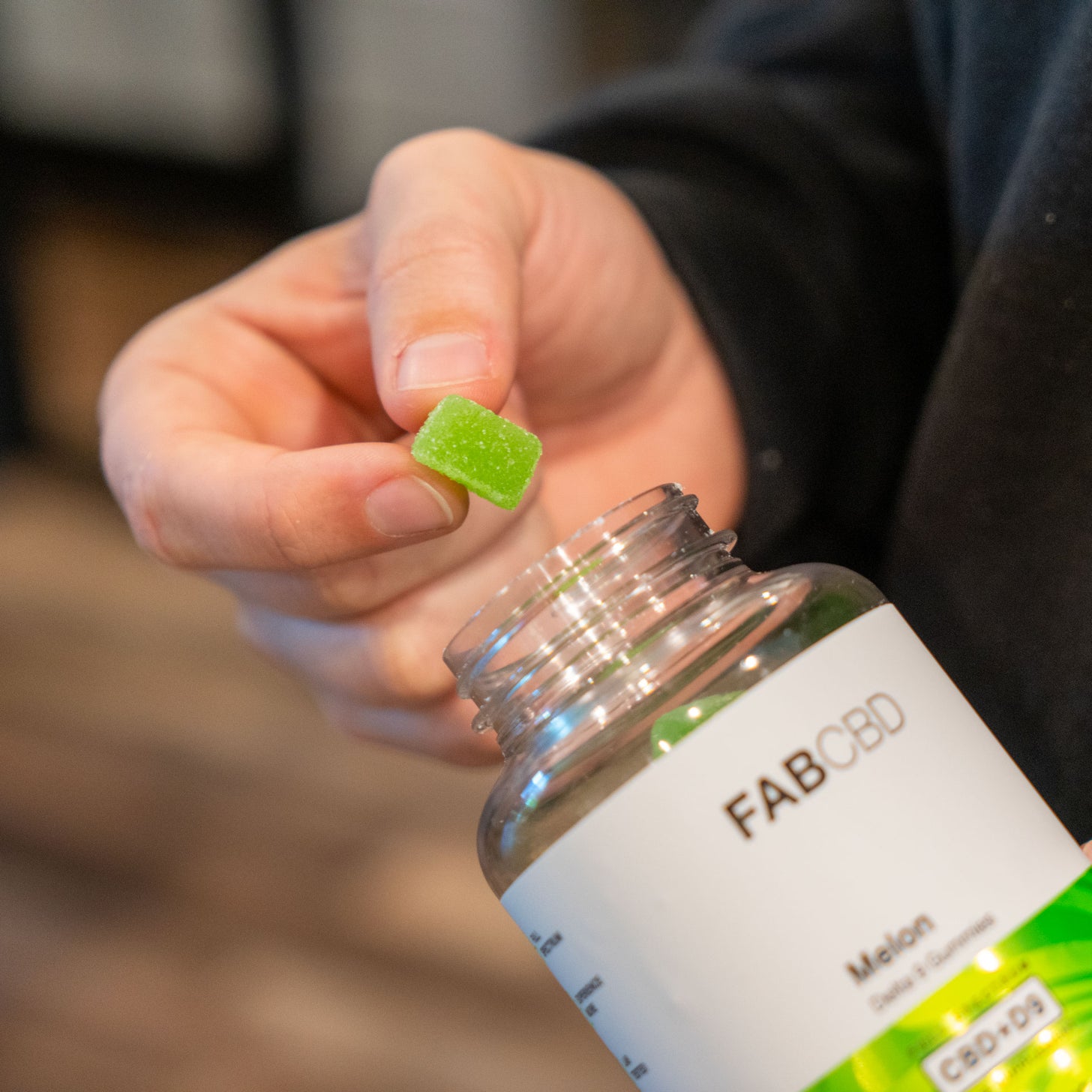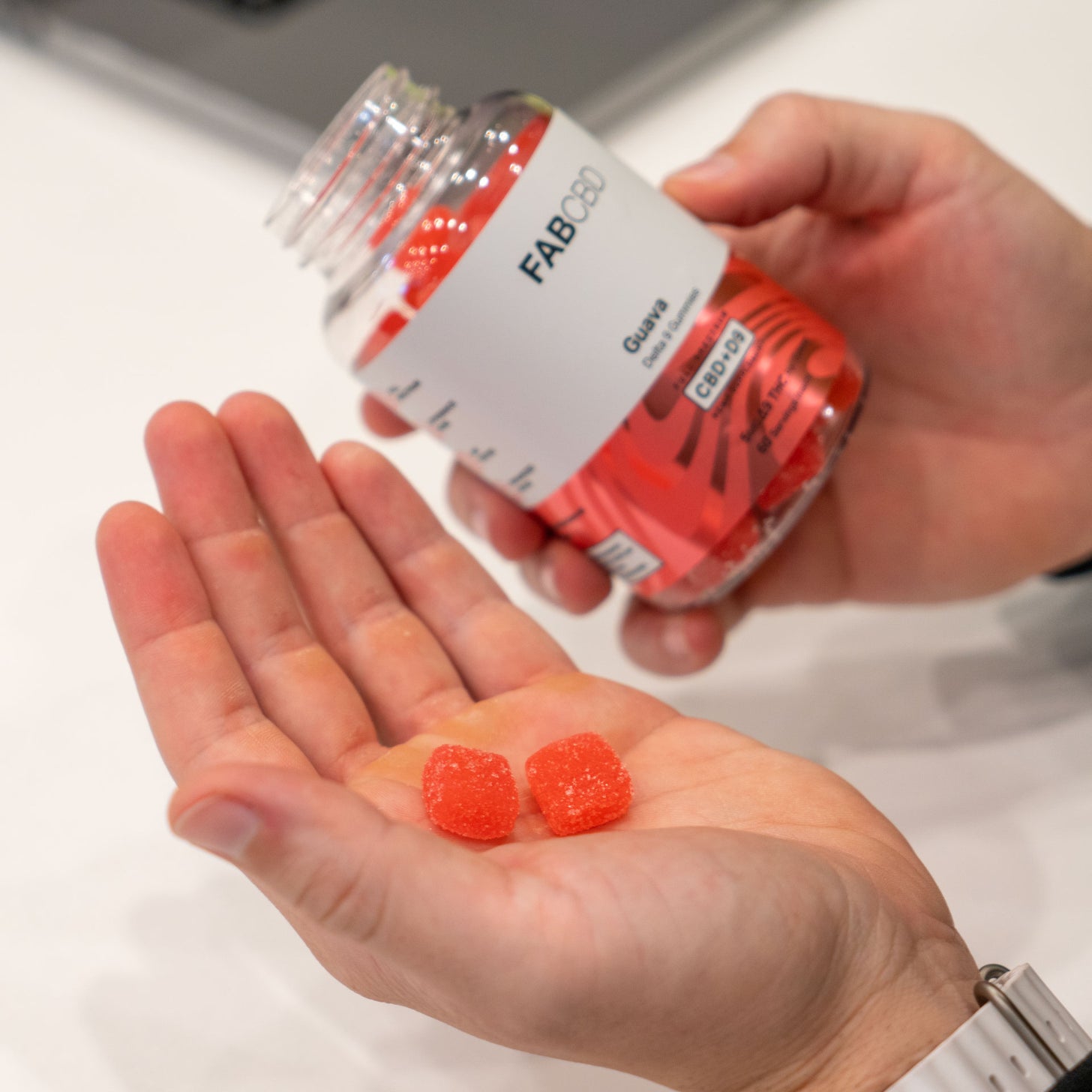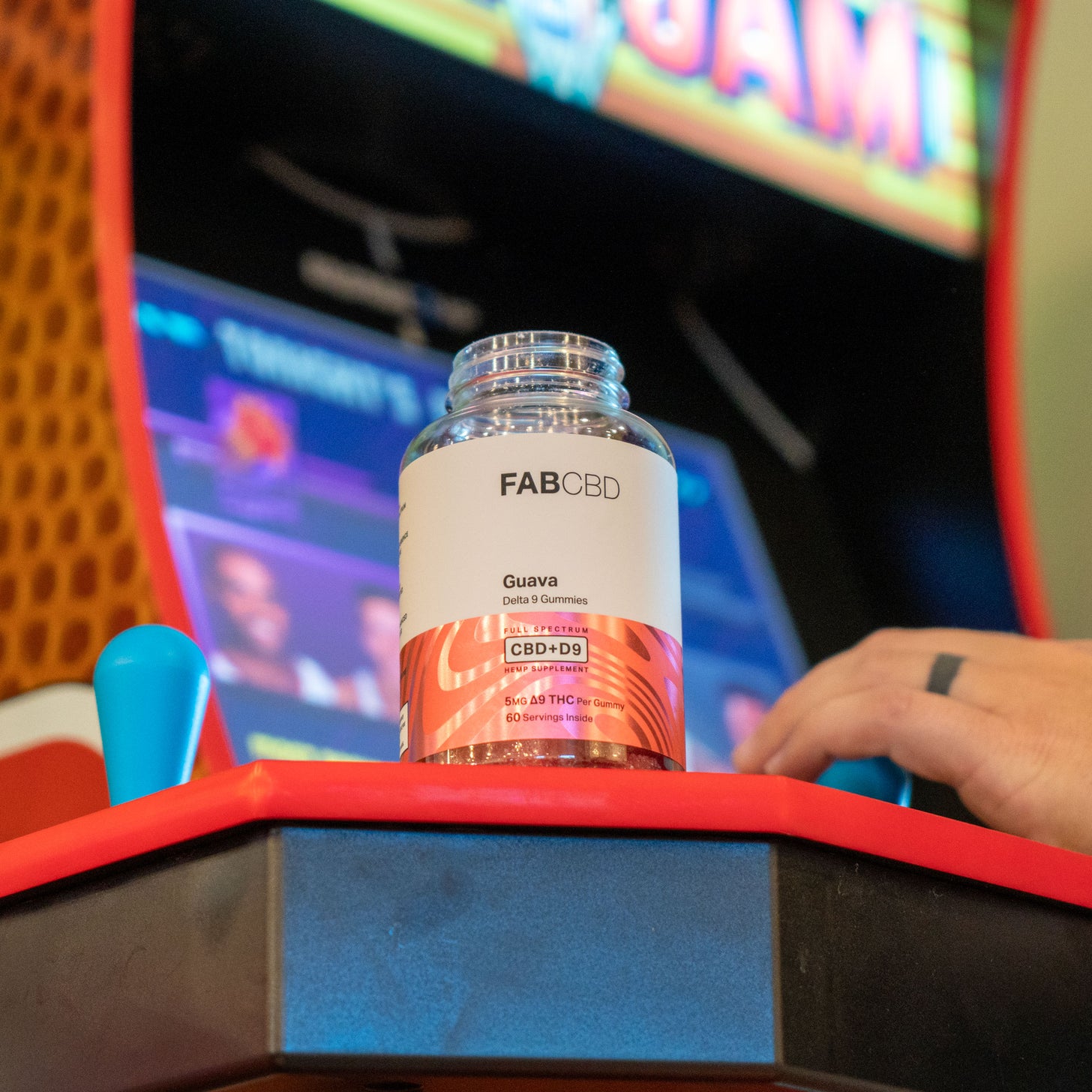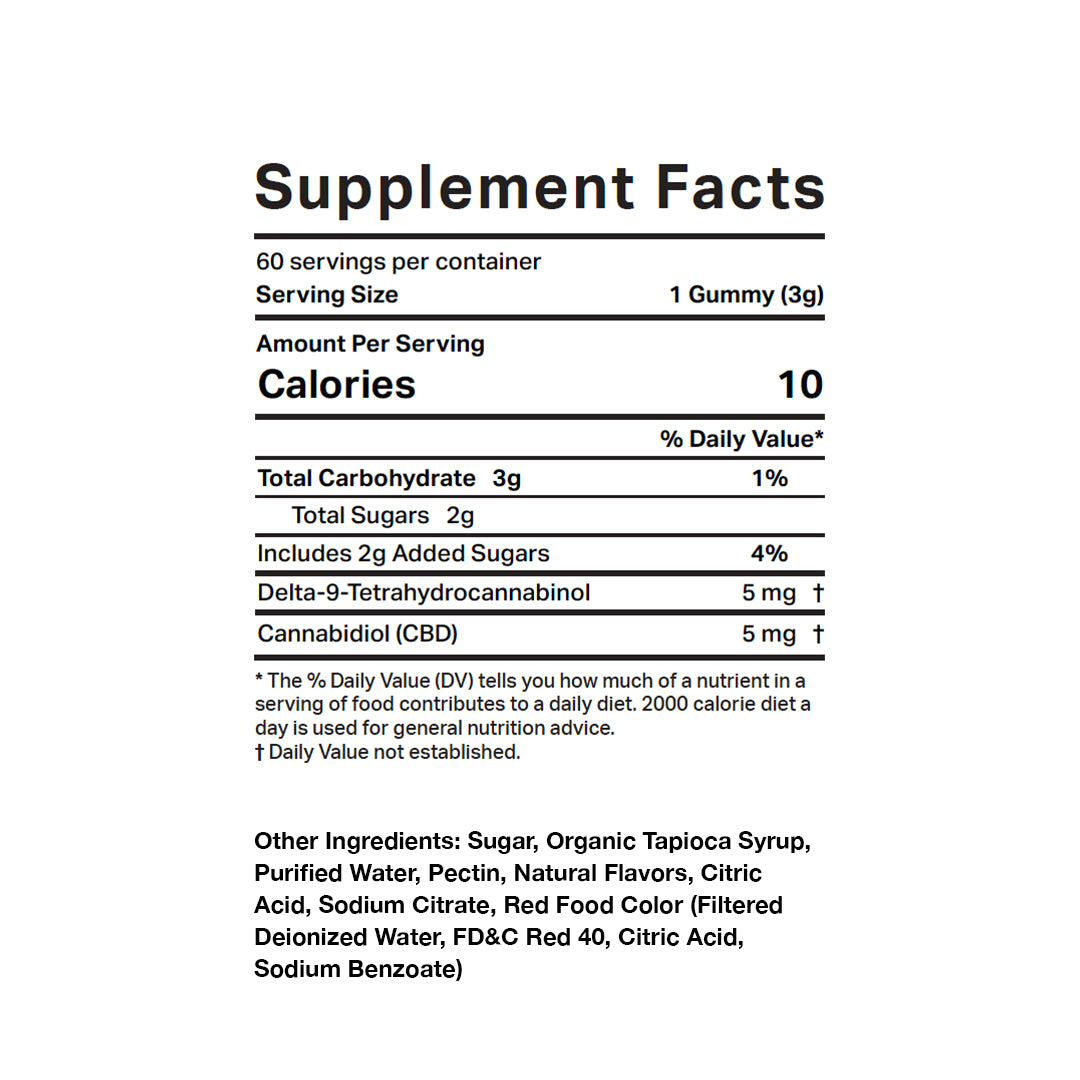 Delta 9 Gummies
Adults use only 21+. These are not your average gummies. Each bottle includes 60 servings of hemp-derived, dispensary-grade delta-9 THC and 5mg of CBD, designed to elevate your mind, body, and spirit. While these THC gummies aren't made to shoot you over the moon, you may feel a lifted, more enhanced mood! If that's not for you, then that's ok too - try our THC-free Anytime Gummies instead. Typically our Delta 9 gummies take 30-45 minutes to kick in, so be prepared. Remember to start with only 1/2 a gummy.  Wait at least 2 hours before taking more to ensure you learn your needed serving size.  Start slow, sit back & enjoy every minute of positive vibes about to take over! 

Do not mix with Alcohol or Medications; always speak with your physician before adding anything to your routine.

Disclaimer: Our hemp-derived Delta 9 THC products are full-spectrum hemp products compliant with the 2018 Farm Bill. Some restrictions may apply. Not for sale where Delta-9 is prohibited by law, including these states: Alaska,  California, Georgia, Idaho, Maryland, Massachusetts, Michigan, Mississippi, Montana, Nevada, New Hampshire, North Carolina, Oregon, South Carolina, Washington, Kentucky & Vermont.
Secure & Trusted Checkout with
Secure
Checkout
Free Shipping
Above $99
30 Days
Moneyback
Each gummy has 5mg of Hemp Derived, Dispensary Grade Delta-9 THC and 5mg CBD. This makes our Delta 9 gummies Full Spectrum, encouraging the entourage effect as the cannabinoids interact with the body's endocannabinoid system. Our flavors are bold and juicy– choose from melon or guava…or just get both. Remember to start slow, 1/2 a gummy and learn your tolerance and serving size over time.
Delta 9 Tetrahydrocannabinol (THC), Cannabidiol (CBD), Sugar, Organic Tapioca Syrup, Purified water, Pectin, Natural Flavors, Citric Acid, Sodium Citrate, Red Food Color (Filtered Deionized Water, FD&C Red 40, Citric Acid, Sodium Benzoate)
PLEASE USE RESPONSIBLY. DO NOT DRIVE OR OPERATE ANY MACHINERY WHILE USING THIS PRODUCT. DO NOT TAKE MORE THAN THE AMOUNT RECOMMENDED BY YOUR DOCTOR.
Consult your doctor before using this product.
Do not use if pregnant, nursing, or if you have any diagnosed or undiagnosed health conditions.
Must be 21 years or older to purchase or use.
Delta 9 may affect blood pressure, heart rate, and/or intraocular pressure in some people. If you have any known or unknown heart, blood pressure, eye, eye pressure, or similar/related issues, do not use this product unless recommended by your physician. 
Take these gummies with food or eat within 60 minutes after eating for best effects. Effects may take up to four hours to feel their full effects. 
All FABCBD products meet federal requirements for full legal compliance.

Disclaimer: To maintain compliance with regulations regarding Delta-9 THC, this product does not ship internationally or to the following US states: Alaska, California, Georgia, Idaho, Maryland, Massachusetts, Michigan, Mississippi, Montana, Nevada, New Hampshire, North Carolina, Oregon, South Carolina, Washington, Kentucky, Vermont.
WARNING: Consuming this product during pregnancy exposes your child to delta-9-THC, which can affect your child's behavior and learning ability. For more information go to www.p65warnings.ca.gov/cannabis.

Free Shipping on Orders Above $99

Secured Payment & Checkout

30 Day Money Back Guarantee

Easy Returns

Free Shipping on Orders Above $99

Secured Payment & Checkout

30 Day Money Back Guarantee

Easy Returns
What is Delta 9 thc?
Elevating your Mind & Body through Cannabinoid Science
The Delta 9 THC in these gummies comes from hemp plants, not from marijuana. That means it's federally legal (up to 0.3% by dry weight volume). Delta 9 THC is arguably the most famous cannabinoid in the world and now you can experience the intoxicating benefits too. Learn more about THC Gummies.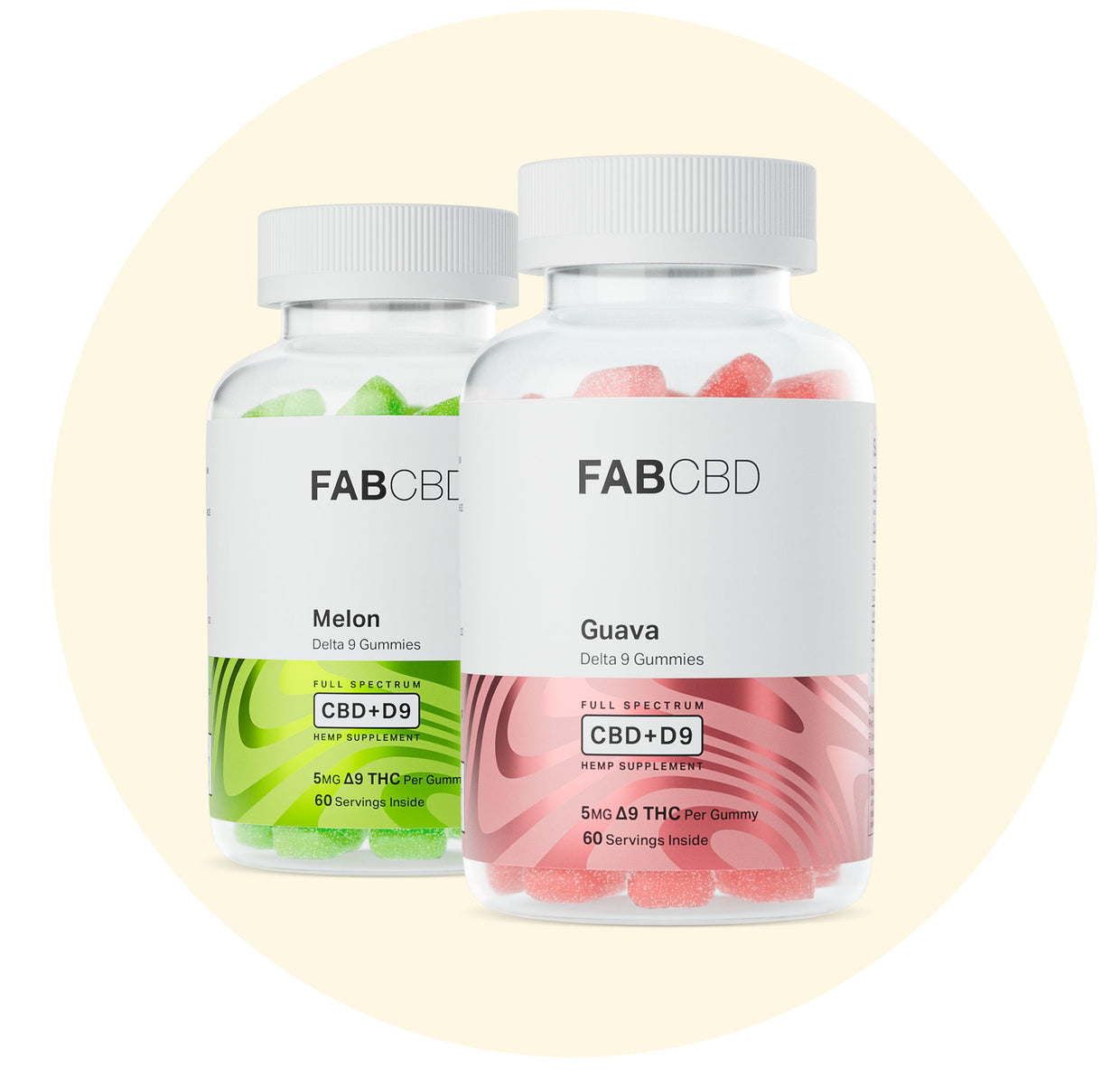 5mg D9 THC per serving

PESTICIDE FREE

full spectrum hemp extract
5mg cbd per serving

NON GMO SOURCES

hemp grown in the usa
HOW IT WORKS?
Choose the flavor that really floats your boat. Elevate your expereince with our hemp derived full spectrum THC gummies! Try one half a gummy at a time. Notice what you feel and scale up or down from there to find the best experience for you.
Choose Your flavor
We've got Guava and Melon and they are both unusually tasty. If you've never had guava, think of creamy tropical smoothies with a very slight edge of tartness. Our melon flavor is divine- bringing summer to your tongue with cool fruitiness.
Test Your Dosage
We suggest starting with half of a gummy, but you could try starting with even less if you want. Only increase if you need to, and give yourself at least an hour before you do. No need to push hard here. Explore slowly and enjoy.
See The Difference
Notice if you feel anything- maybe a little more cheerful, a little less grumpy, more likely to think outside the box, little more creative? Every human body will respond in its own way, so rather than planning how you'll feel, just pay attention to your experience.
Sleep Assist
Whether it's falling asleep, staying asleep, or just winding down, you might get some support from these gummies.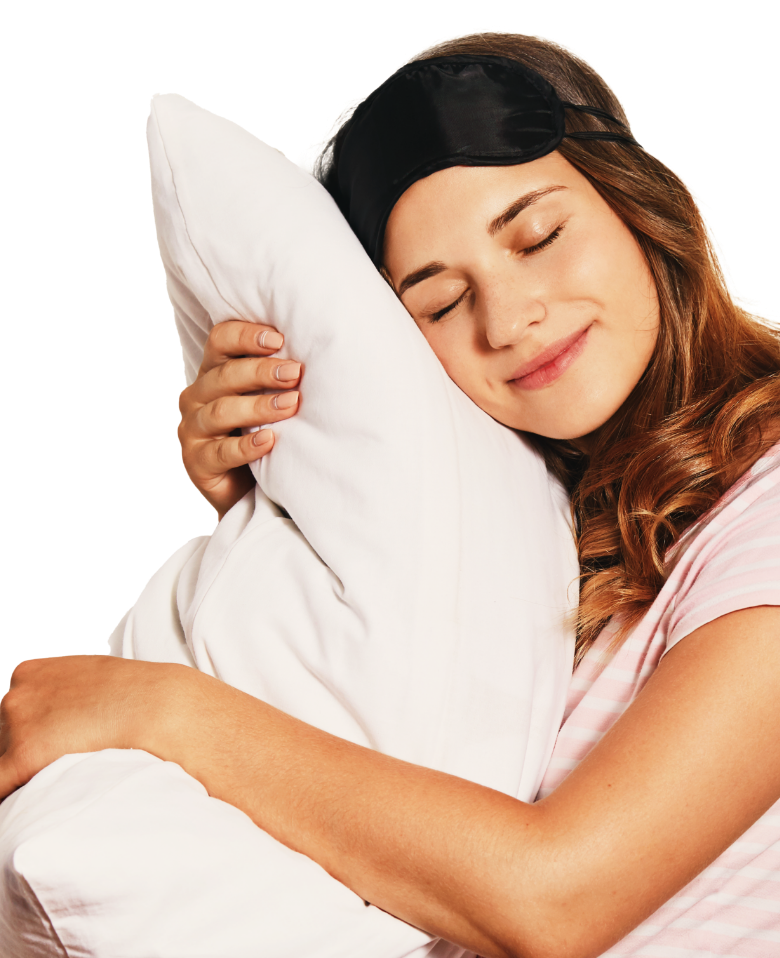 Elevated Mood
THC works with the endocannabinoid system in a way that might feel relaxing or conducive to a better mood.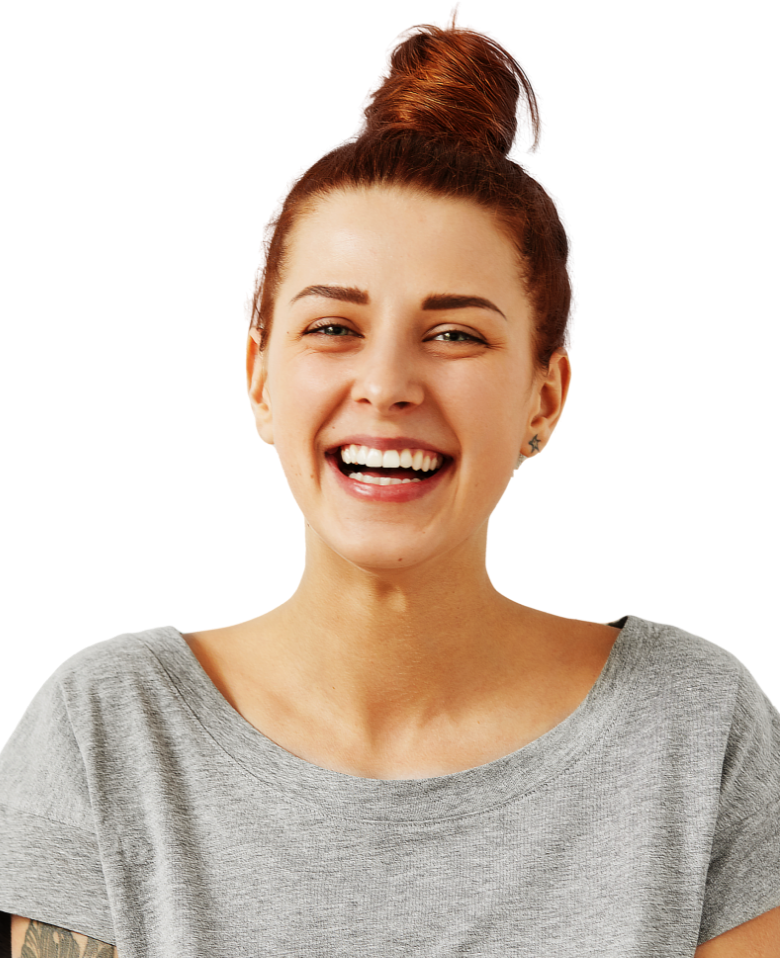 The fab Difference
What Makes Our THC Gummies Better?
Well, our formula, flavors, and customer service come to mind. We wanted to make a CBD product that also had the added benefits of higher levels of THC (up to 0.3% by dry weight volume). These gummies are designed to hit that sweet spot for you when you want to chill out a bit. We put all that into soft and chewy squares that are bursting with flavor and potent Delta 9 THC!

Curated
Formula

Distinct
Flavors

Customer
Service

Vegan
Gummies
DISCLAIMER: Take ½ gummy, wait an hour to see how you feel, then take more as desired. Do not take more than 1 gummy per hour, and store the bottle in a cool, dry place away from sunlight.
We make our delta 9 gummies with pectin instead of gelatin so they're vegetarian friendly! That pectin is what makes them hold together and it gives them the chew factor. The CBD and THC are added in equal parts (5mg each), and voila! We have a Delta-9 gummy!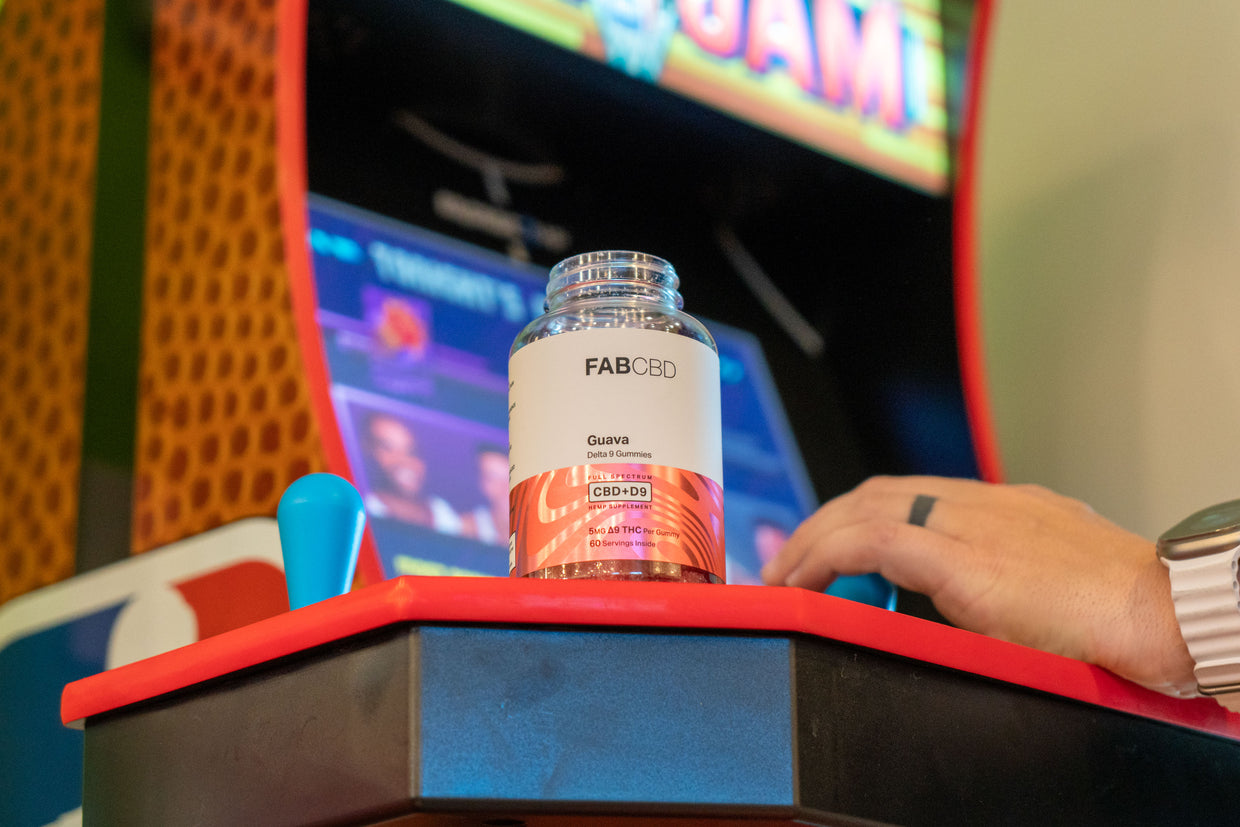 Recommendations
Getting The Most Out Of Your Delta 9 Gummies
Ahem…we just wanted to remind you that our delta 9 THC gummies come in a 60-count jar. That's a lot of servings, and could last you quite a while. Take them with you or keep them at home, but remember not to leave them in direct sunlight or extreme heat. Look after your gummies and they'll look after you!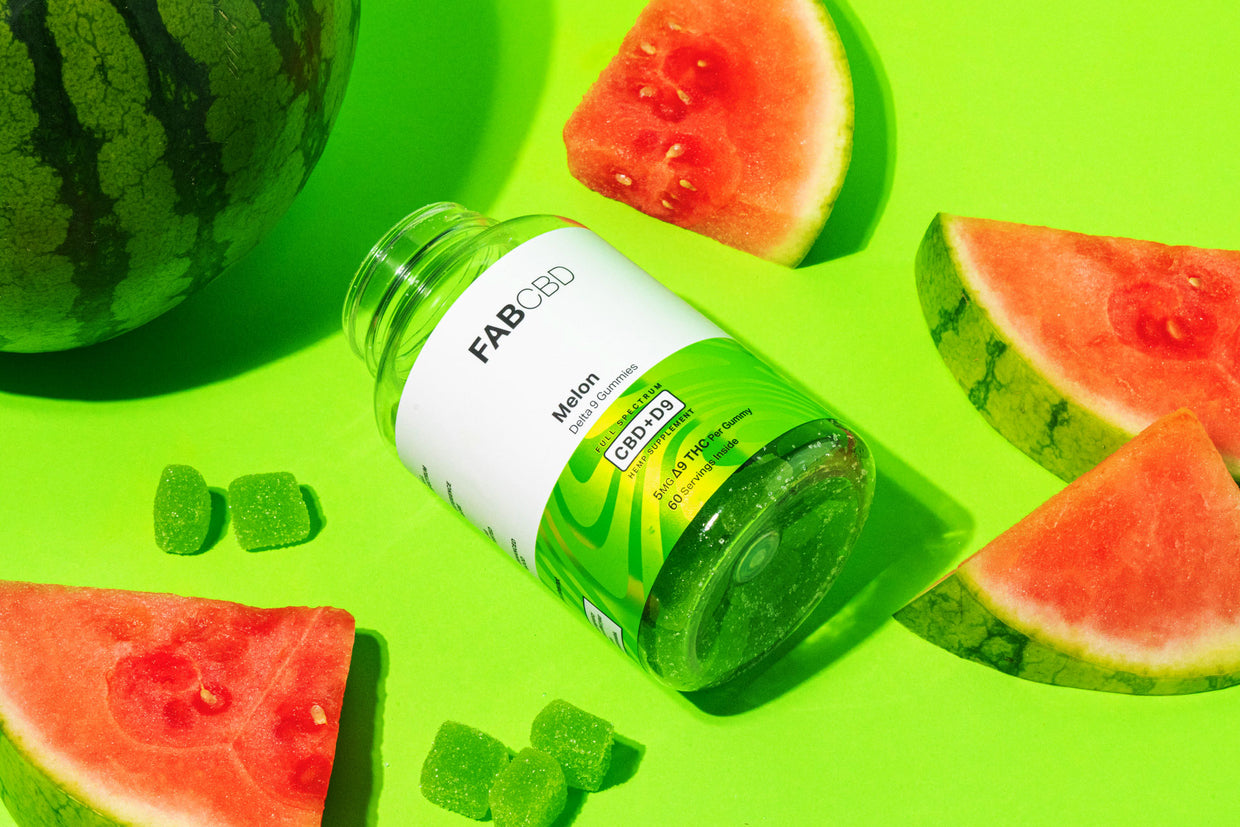 a potent difference
Tap Into More With Delta-9
Enjoying these gummies is a fun and tasty way to tap into the intoxicating benefits of THC and CBD together. Thanks to our juicy guava and melon flavors, you'll be adding these to your daily routine or weekends in no time. Just remember they're not candy! Start low and go slow, allowing your body ample time to adjust to the powerful cannabinoids.
we don't sell products
we sell results & experiences
World Class products and service are a recipe for success, so we strive to deliver just that. Tooting our own horn is necessary if it means you end up with a better product in your hands. Take a look at what puts FAB CBD Delta 9 Gummies head and shoulders above the rest.

Others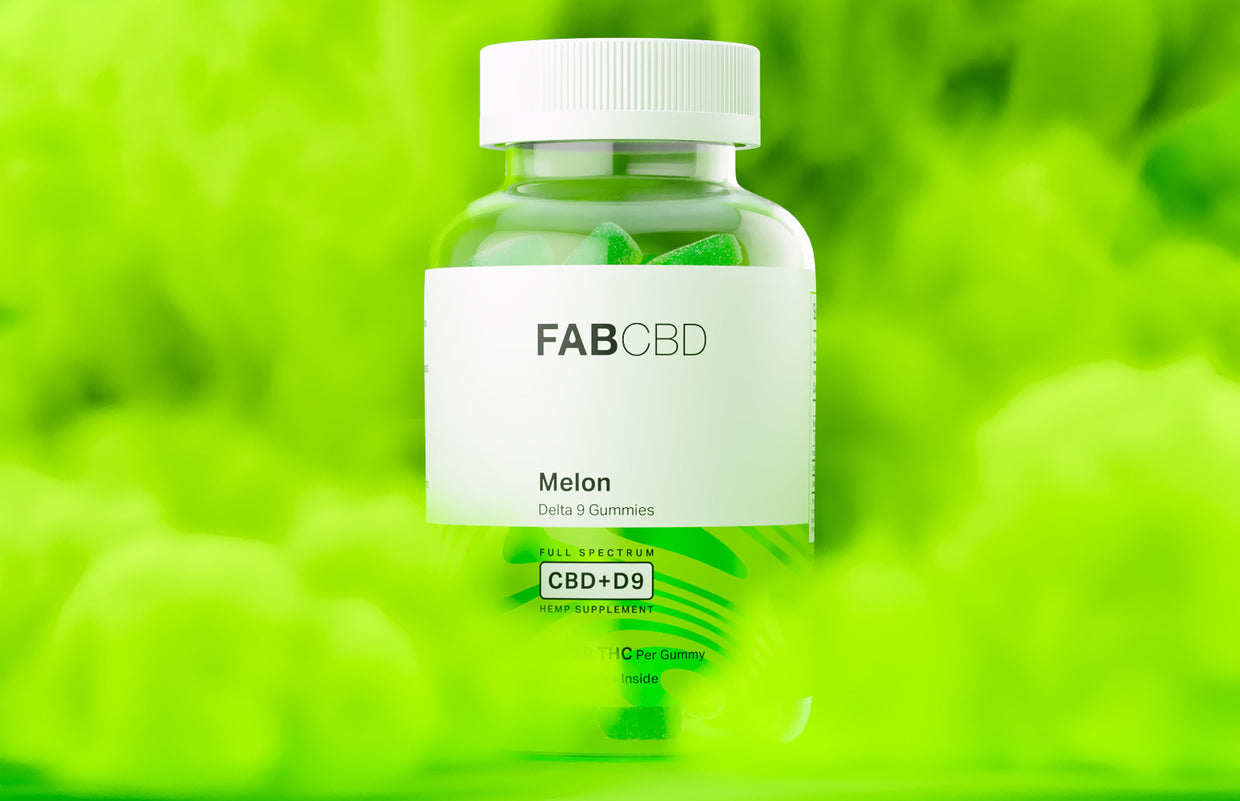 Perfectly Legal in Every Way!
A lot of folks are wondering if Delta-9 THC gummies are legal. The answer is yes! As long as the THC comes from the hemp plant and the dry weight of THC is less than 0.3% of the product's overall weight, then it's smooth sailing in the law department. We have designed our D9 gummies to be comfortably within legal limits, and yet noticeably beyond your regular CBD experience.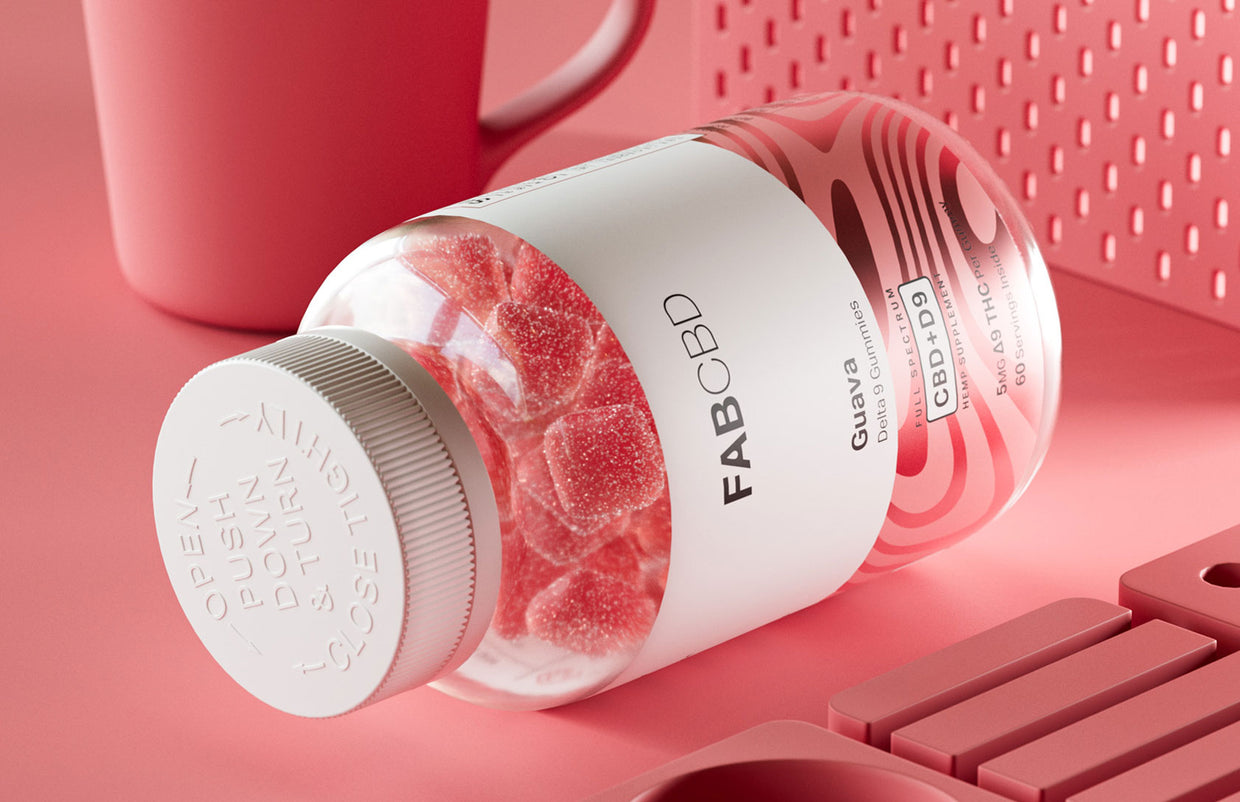 Wellness, But more Fun
D9 gummies are still, at their core, enhanced CBD gummies made to support people's wellness efforts. Our endocannabinoid system (ECS) knows what to do with cannabinoids because our own bodies already make them. CBD, THC and other cannabinoids are recognized by our ECS whether they come from plants or from our own biome. The added fun with D9, is that you are choosing to explore the intoxicating and psychotropic properties of THC, which can add an element of gentle euphoria or enhanced mood.
Still have questions?
Here's all you need to know about Delta 9 Gummies
from the FAB CBD blog!
97%
would recommend this product
Mild

I really like it so far, I've played with dosing and find that these are help to mellow without making me loopy. The guava flavor is delicious!

Traci A O.

Verified Buyer

Excellent

They taste good. Easy to open. Thanks

F

FABCBD

4 days ago

Thank you so much for your feedback, Traci. We appreciate your review!

Fabulous!!

Great company and fantastic products. Love, love, love.

F

FABCBD

2 months ago

Thank you so much for your feedback, Judi. We appreciate your review!

Gummies

Good product, I would like a little bit stronger.

Great flavor the Melon.

F

FABCBD

2 months ago

Thanks so much for your feedback, Sandra. Please feel free to reach out to our customer support team via support@fabcbd.com if you have any further concerns or questions!

GUMMIES

very nice love the flavor of the gummies and the 5mg are just right.

F

FABCBD

4 months ago

Thanks so much for your feedback, Mark. We are happy to hear you enjoy it!

Melon Gummies

About half an hour after taking a gummy I feel so relaxed. Exactly what I was looking for.

F

FABCBD

4 months ago

Thanks so much for your feedback, Rosann. We are happy to hear you enjoy it!

Towanda M.

Verified Buyer

F

FABCBD

4 months ago

Thanks so much for your feedback, Towanda. We are happy to hear you enjoy it!

FABulous! D9

I already use many of your products. Oils, gummy's, nighttime gummy's, salve, and now D9. I have been a customer for three years. The owner and his support staff (Customer service), are phenomenal. But the real deal, is your product and how you stand behind it. I love everything about Fab.. I wish you would get some shirts and sweatshirts and Fab paraphernalia for us to buy and wear, and start conversations with people about your products. BLUF, you are the best, bar none.

F

FABCBD

4 months ago

Thank you so much for your feedback, Lisa. We appreciate your detailed review about our products and company! I will pass along your suggestion about offering FABCBD merchandise to our customers in the future. Please feel free to reach out to our customer support team via support@fabcbd.com if you need anything else.
Reviews Loaded
Reviews Added
Frequently Asked Questions
Delta 9 Gummies FAQ
Delta 9 gummies are edible products that contain delta 9 THC, a common cannabinoid found in hemp. They may also contain CBD and other ingredients like sugar, tapioca syrup, and pectin to help them hold their shape and give them their signature chewy texture.
Like all cannabinoid products, delta 9 gummies work via the endocannabinoid system (ECS), a network of receptors in all humans (and mammals!) that regulates certain bodily functions like sleep, pain response, temperature, memory and learning, and more. Delta 9 THC interacts with receptors in the ECS to produce a range of effects, which may include a more relaxed mood, elevated sense of well-being and creativity, and euphoria.
Because our delta 9 gummies are derived from hemp, they comply with the 2018 Farm Bill, making them legal across the country! However, specific laws surrounding delta 9 THC and other cannabinoids may differ in certain areas. FAB CBD always recommends that you check your local laws and regulations before purchasing our products to ensure you are 100% in the clear. Learn more in our blog post: Are Delta 9 Gummies Legal?
Delta 9 gummies offer a range of potential benefits that can vary from user to user. These may include a heightened mood, reduced anxiety, pain relief, euphoria, or improved well-being. A growing body of research points to even more benefits, many of which may be yet to be discovered!
Delta 9 gummy dosage can vary depending on the product's potency, individual users' body chemistry, the desired effect, and other factors. For FAB CBD delta 9 gummies, we recommend starting with half a gummy, then waiting an hour to see how it affects you before taking more.
While most customers find our delta 9 gummies free of side effects, this does not rule out their possibility. Side effects of delta 9 THC may include drowsiness, increased heart rate, dry mouth, and appetite changes. However, by following manufacturers' instructions and practicing responsible dosing protocols, many of these side effects can potentially be avoided.
While the FDA does not approve delta 9 gummies to treat specific conditions, many people find them helpful for various ailments. These may include pain relief, appetite stimulation and nausea reduction (especially in AIDS or cancer patients), and relief from chronic conditions such as seizures and multiple sclerosis, among others.
While we're confident that our delta 9 gummies won't cause any adverse effects when taken with other medications, we cannot guarantee it. We encourage customers who take other medications to consult their doctor before implementing delta 9 gummies into their routine.
If you're looking to buy delta 9 gummies, FAB CBD has them for sale online right now! Our gummies are available in either guava or melon flavors, and each bottle contains 60 5mg of delta 9 THC and CBD, so you can experience the full benefits of both. Try them today - we're confident you'll be coming back for more!