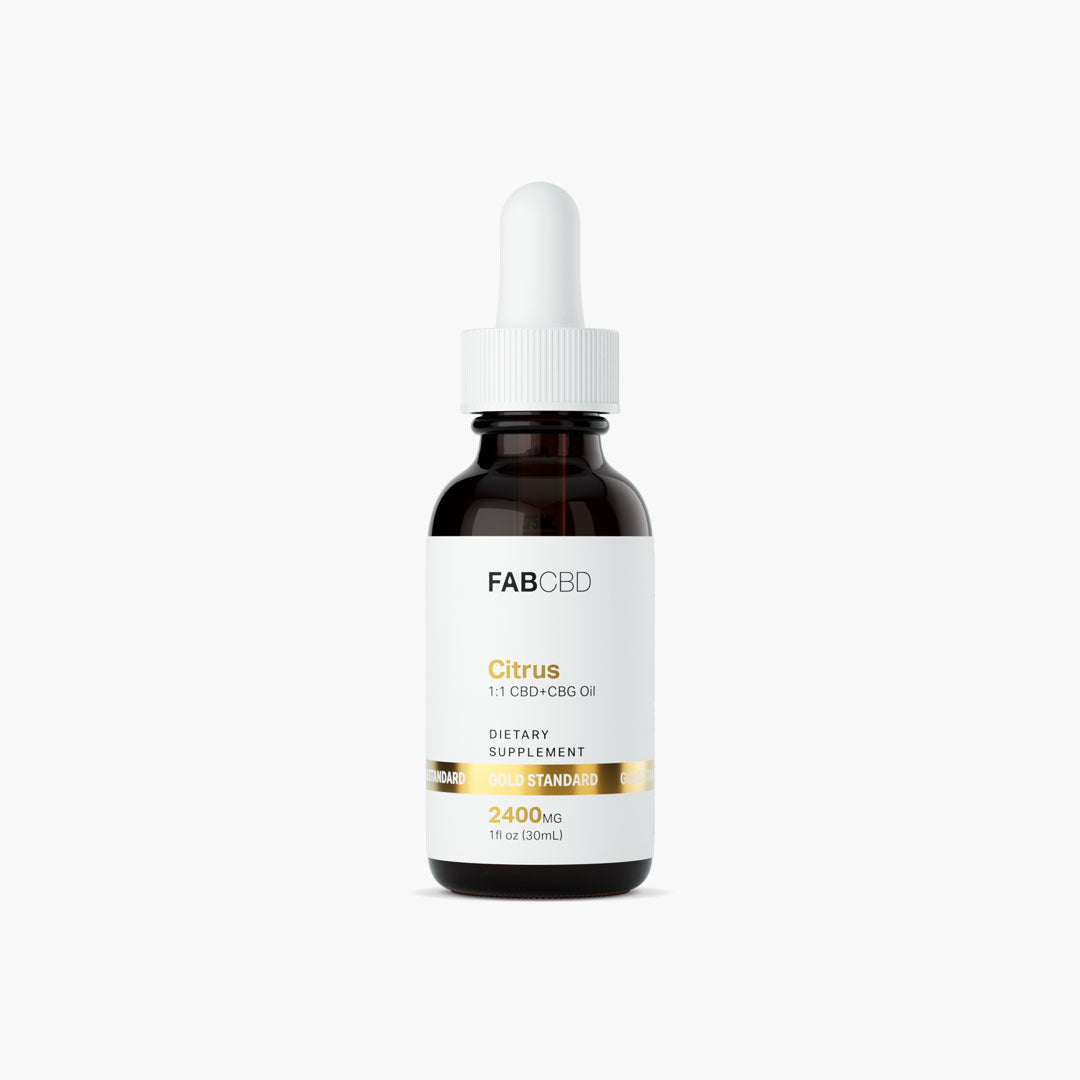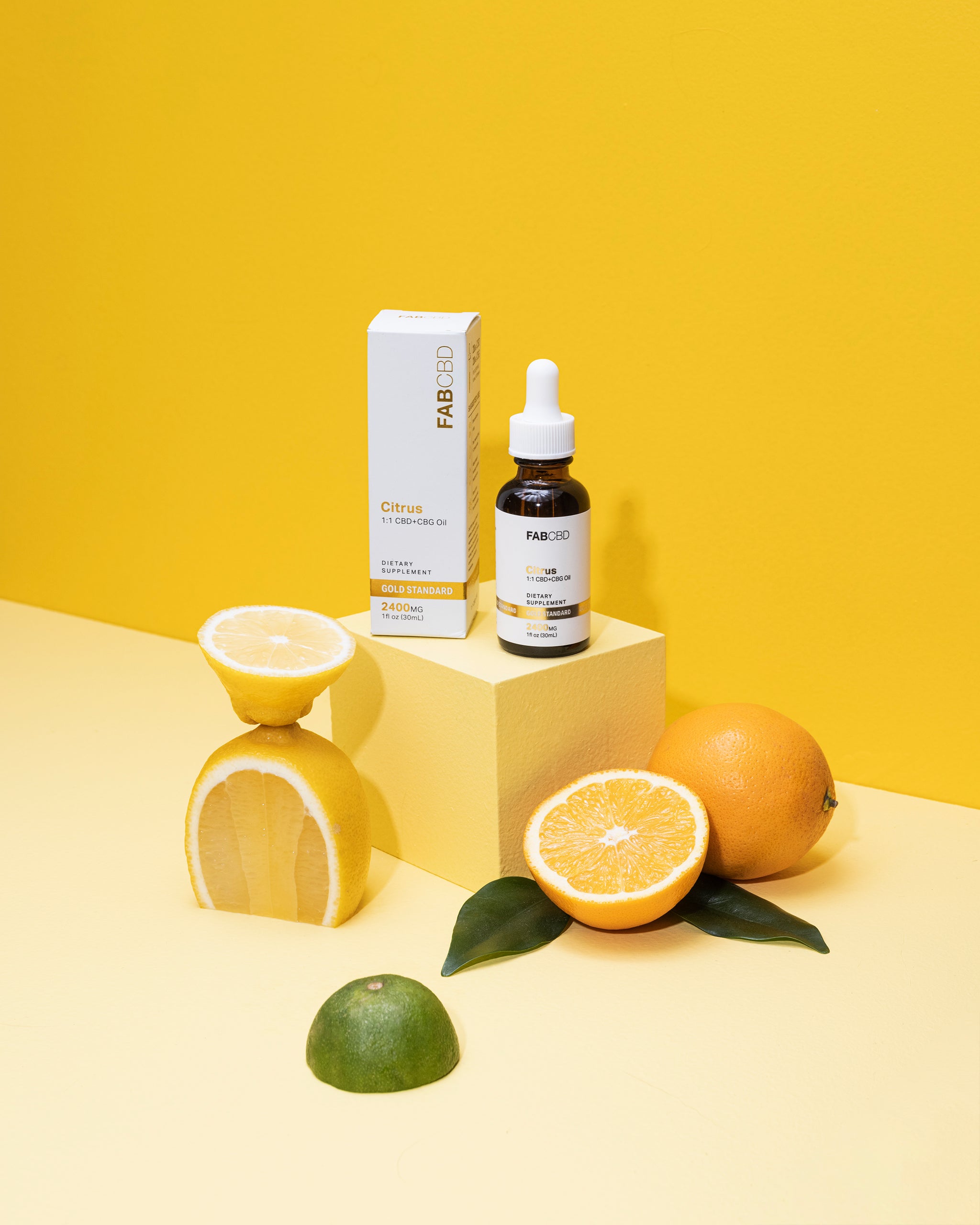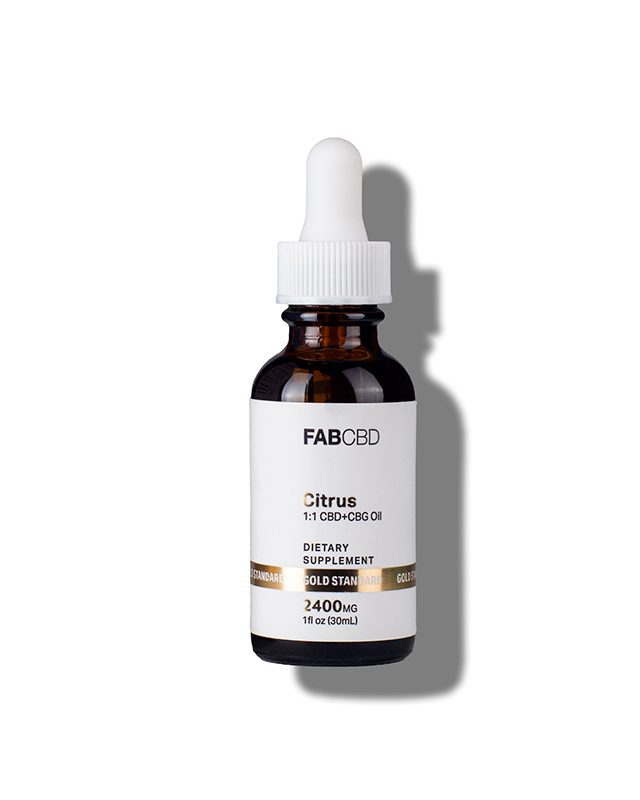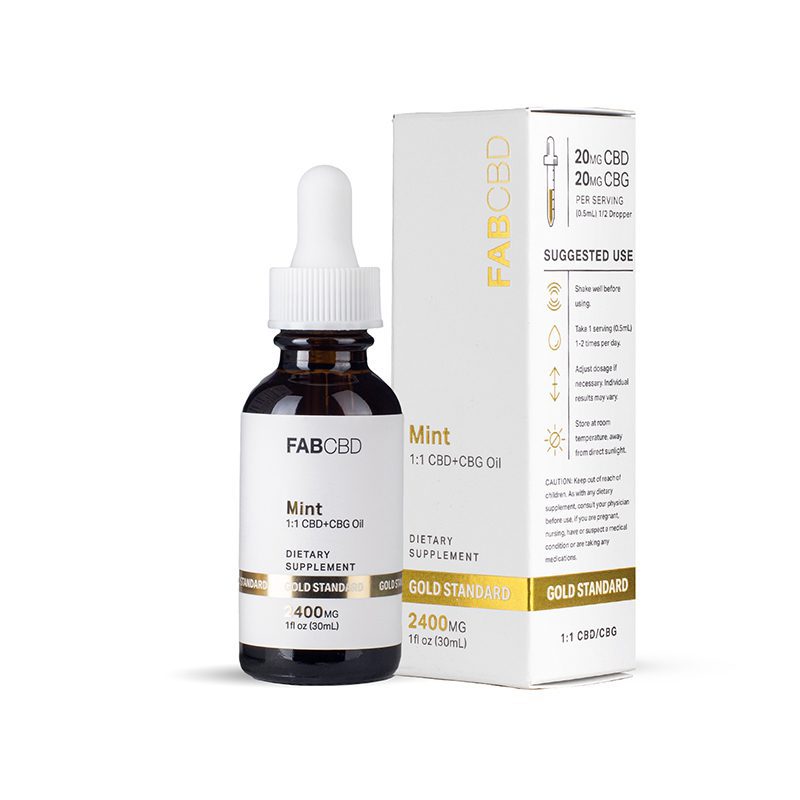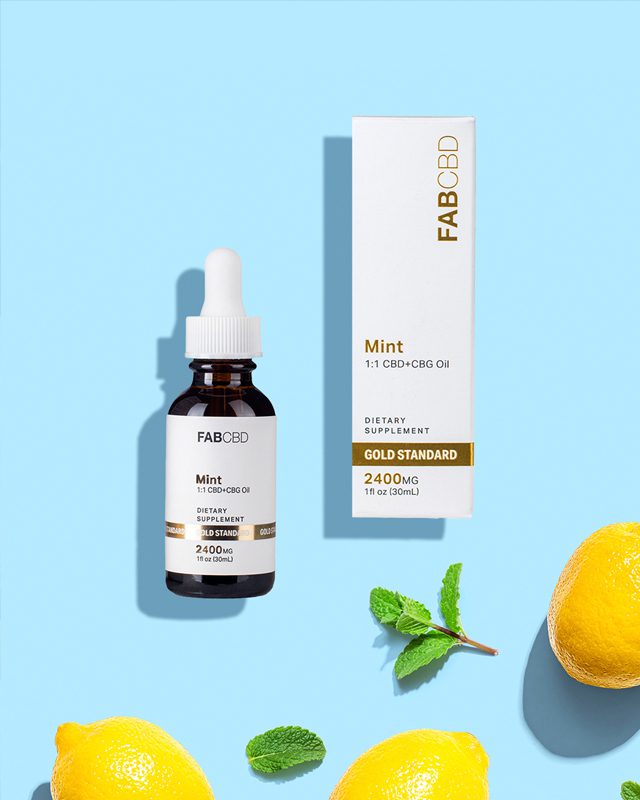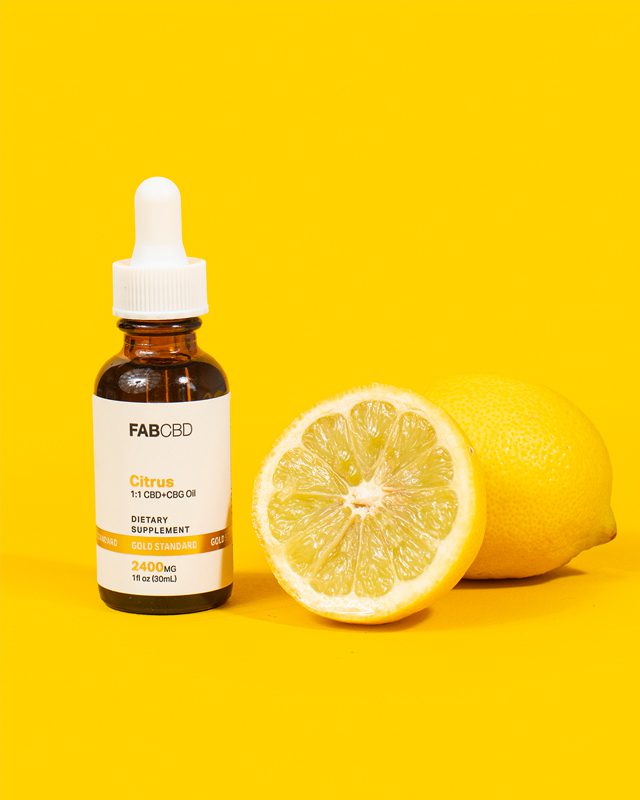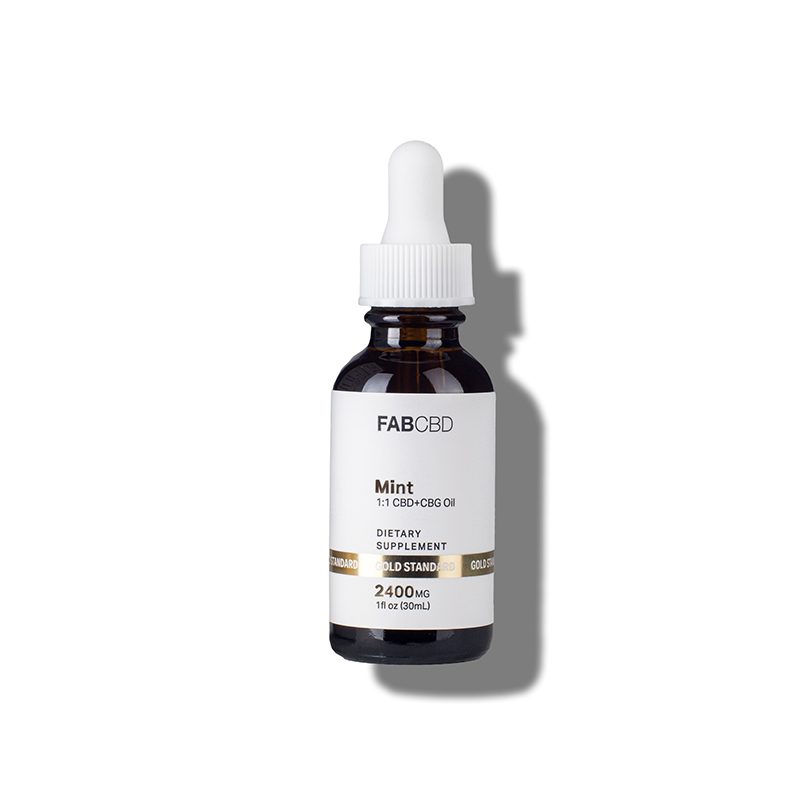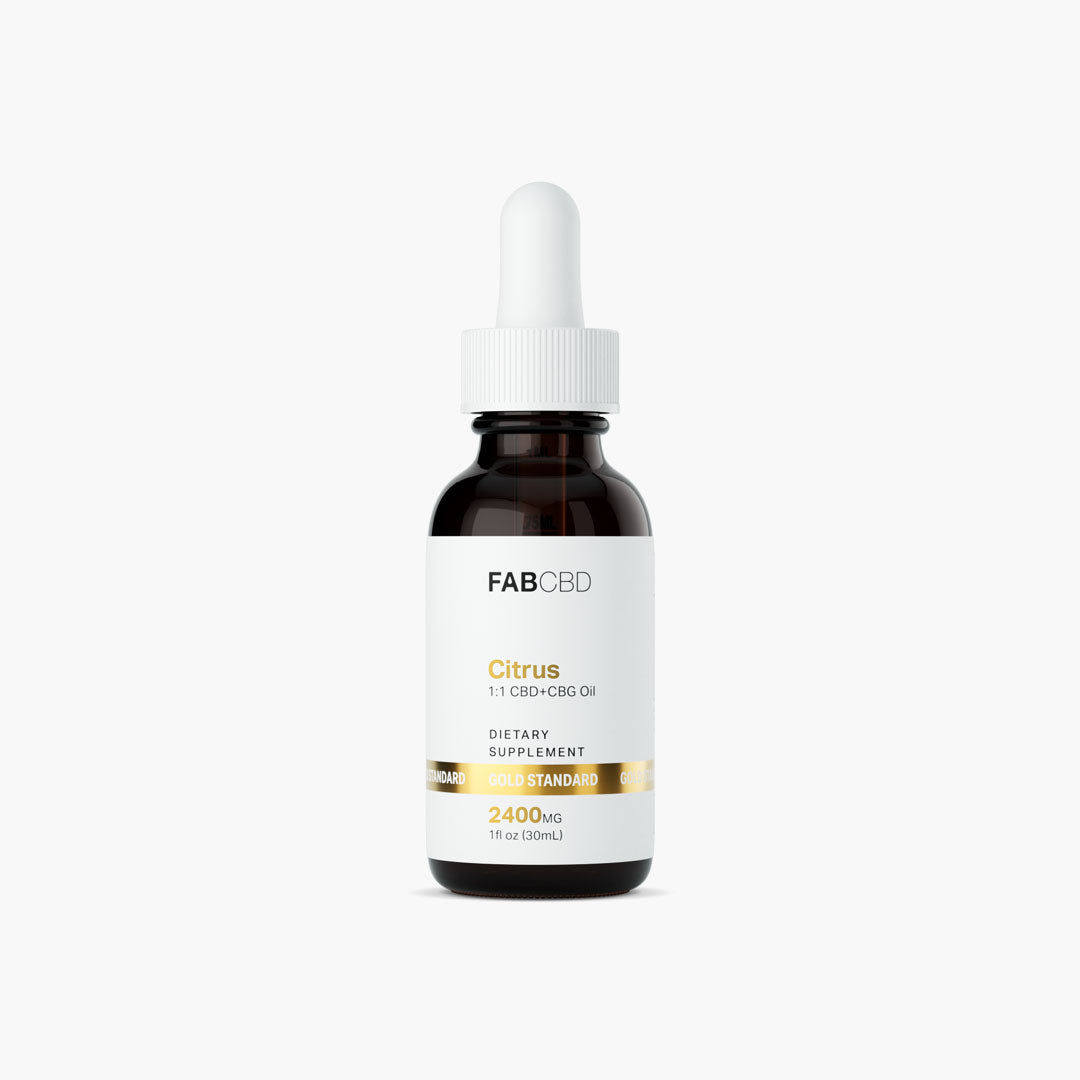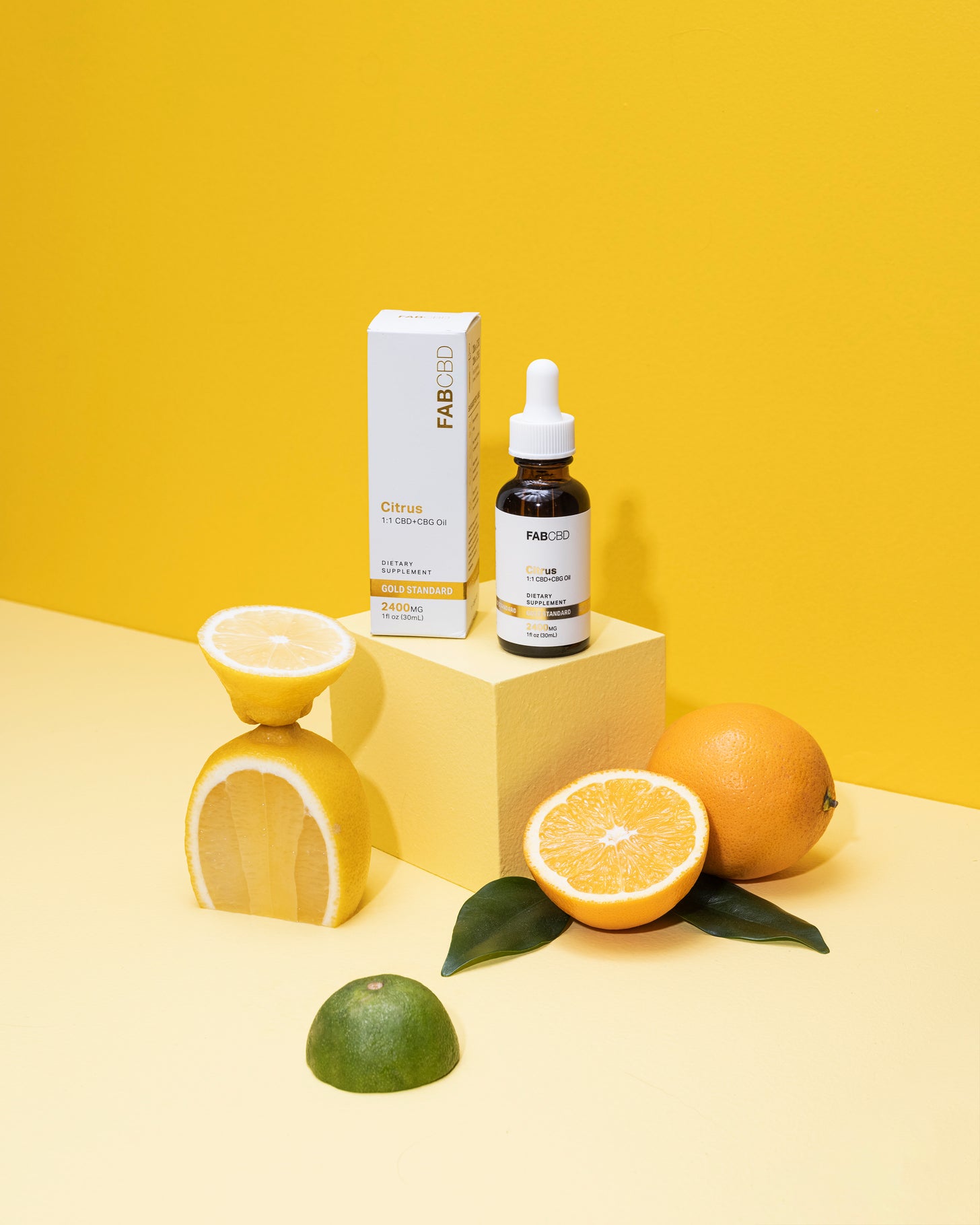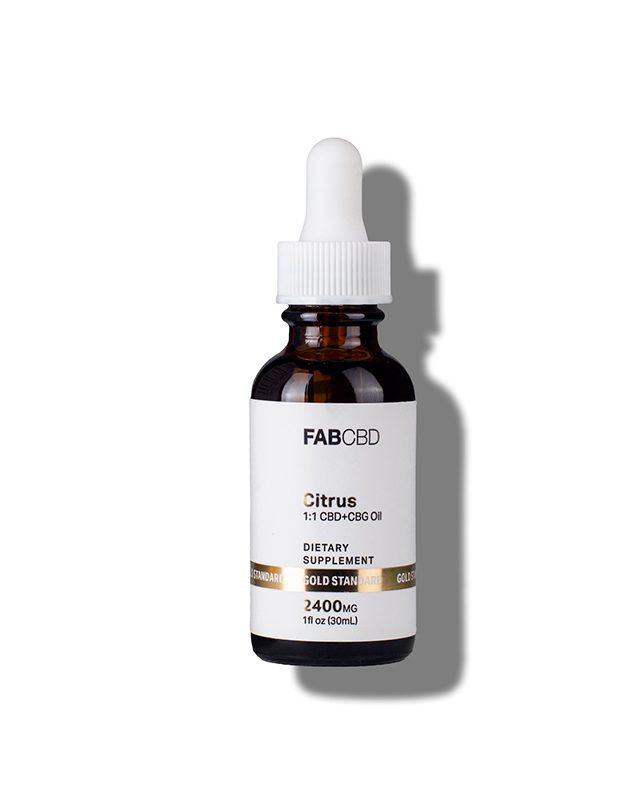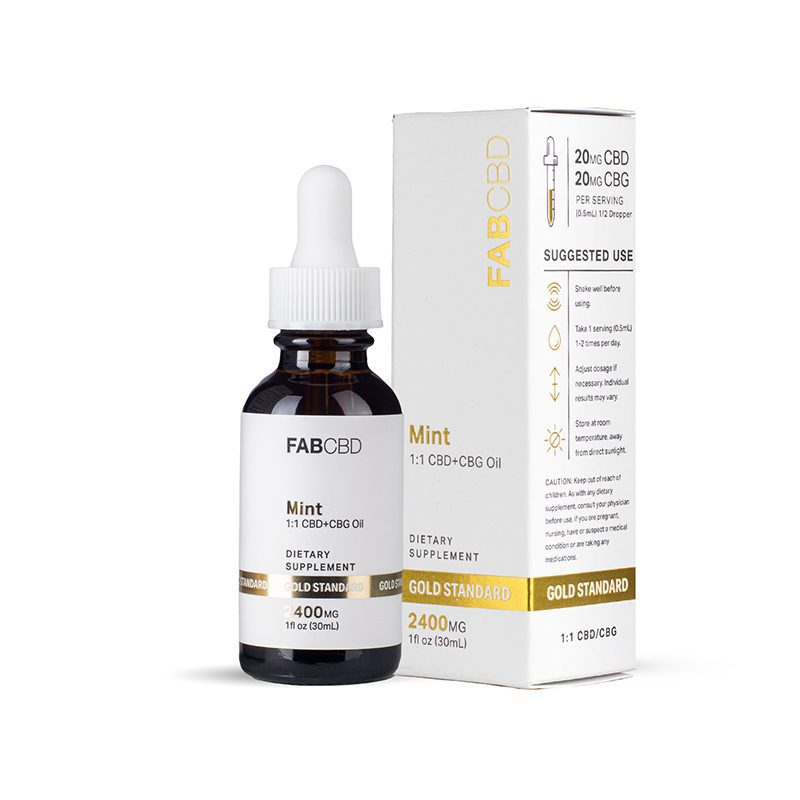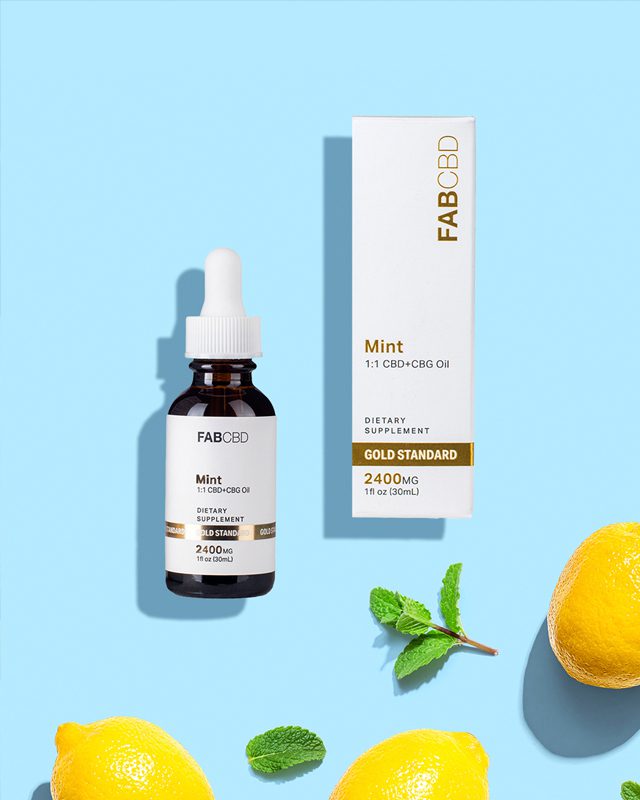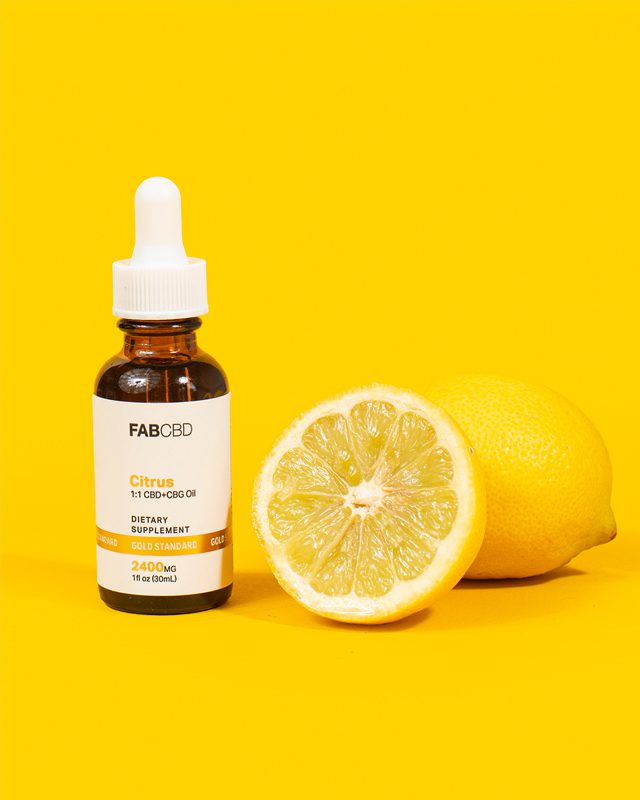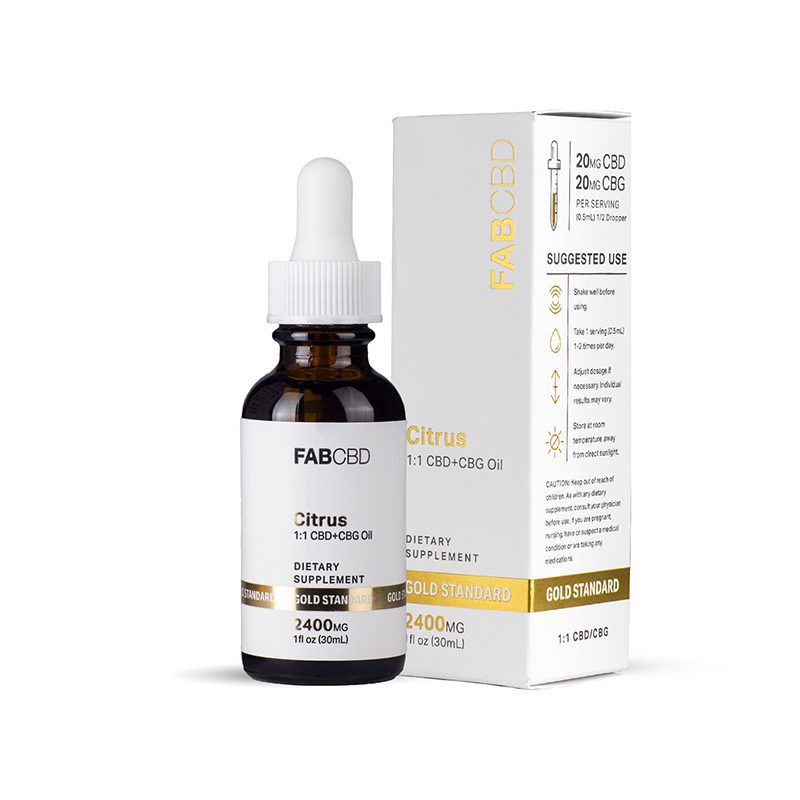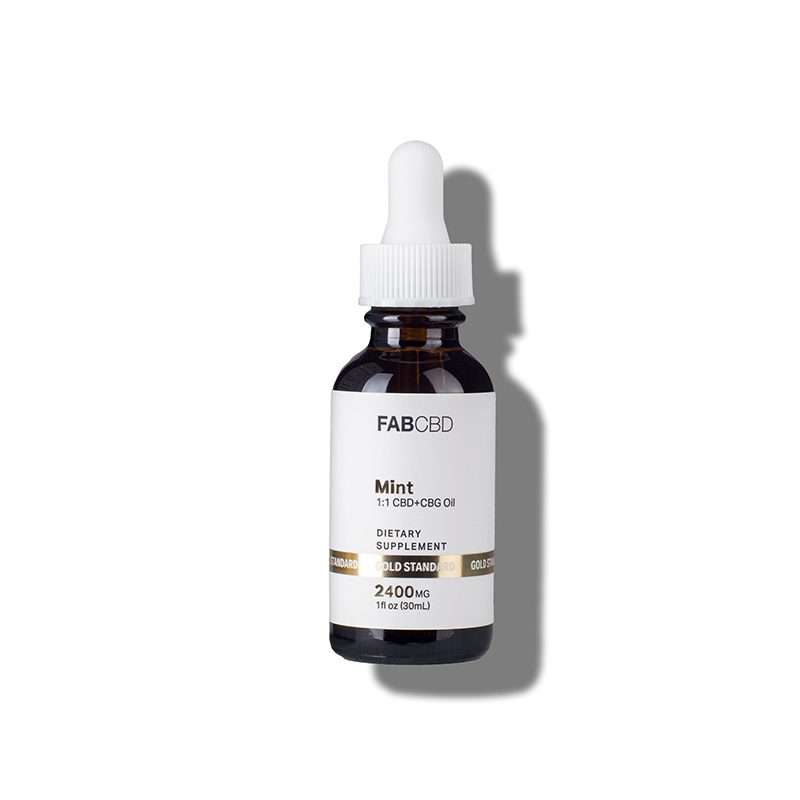 CBG Oil
Our innovative 2400mg, Full Spectrum CBG Oil is head and shoulders above other cannabinoid products out on today's market. We set the bar high by giving you a 1:1 ratio of CBD (cannabidiol) to CBG (cannabigerol). In fact, our formula is considered to be the gold standard for cannabinoid supplements. We're leading the way in the CBD industry when it comes to quality, potency, innovation, and product purity. Our CBD CBG Oil brings the meaning of full spectrum CBG oil to an entirely new dimension, and on top of that, it also comes in citrus and mint — two of the most popular flavors.
Secure & Trusted Checkout with
Secure
Checkout
Free Shipping
Above $99
30 Days
Moneyback
"This is my 3rd order from FAB. Not only is their tincture the most effective around, they have customer service that can't be equaled! This company is aptly named!"
Cannabigerol (CBG) is often referred to as the "mother cannabinoid". We bottled her up with equal parts CBD and created what we call our Gold Standard oil product. Our greatest oil to date! Whatever your CBD needs are, this product is sure to help!
2400mg CBD:CBG (1200mg each), Fractionated Coconut Oil, Organic Orange Oil, Organic Lemon Oil, *Contains Cocounut.
Take 1-2 servings a day or as needed. Can take day or night. Keep away from direct sunlight and store in room tempature. 1/2 Dropper or .5mL = 1 serving size.
WARNING: Consuming this product during pregnancy exposes your child to delta-9-THC, which can affect your child's behavior and learning ability. For more information go to www.p65warnings.ca.gov/cannabis.

Free Shipping on Orders Above $99

Secured Payment & Checkout

30 Day Money Back Guarantee

Easy Returns

Free Shipping on Orders Above $99

Secured Payment & Checkout

30 Day Money Back Guarantee

Easy Returns
PROPER
SERVINGS

PESTICIDE
FREE

CANNABINOIDS &
TERPENES

NON GMO
SOURCES

ORGANICALLY
GROWN

FARMED IN
COLORADO
98%
would recommend this product
good service

Am using it for a number of years now at the suggestion of my doctor and also a friend. To be honest, I can't say how well I am doing on it because I take so many supplements with it . I can say that it is easy to consume and obviously not giving me any problems. I can only assume it has some positive effect.

F

FABCBD

10 seconds ago

Thanks so much for your feedback, John. Please feel free to reach out to our customer support team via support@fabcbd.com if you have any further concerns or questions.

F

FABCBD

1 month ago

Thanks so much for your feedback, Nichelle. We are happy to hear you enjoy it!

F

FABCBD

3 months ago

Thanks so much for your feedback! We appreciate your support!

big difference

I definitely feel a difference in my focus with the CBG oil. I've been using FABCBD CBD which has been good, and the CBG is the next level.

Love it!!

F

FABCBD

4 months ago

We hare so happy to hear that, Jerri! Thank you so much for leaving your feedback!

The Gold Standard

Works great, very pleased with the results, will definitely buy again.

F

FABCBD

5 months ago

We're happy to hear you are enjoying your results, Scott! Thanks so much for sharing your feedback.

Ok,

I have not noticed any real difference with this product.

F

FABCBD

1 month ago

Thanks so much for your feedback, Jeanette. Please feel free to reach out to our customer support team via support@fabcbd.com if you have any further concerns or questions!

Wonderful!

FAB CBD is just getting better!

F

Awesome

Does the job and mint tastes great

F

FABCBD

8 months ago

Sweet! Thank you so much Bill for taking the time to review our product and sharing your experience with us. It's an honor to assist you!
Reviews Loaded
Reviews Added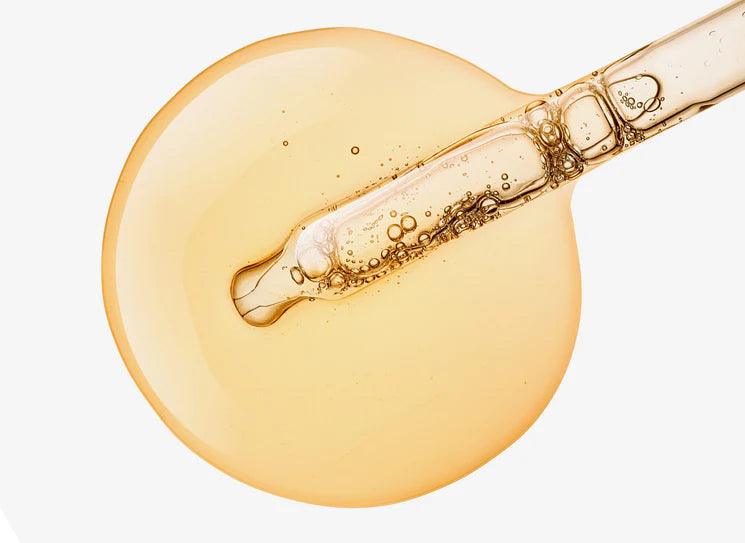 WHAT'S IN OUR CBG OIL
FAB CBD's Full Spectrum CBG Oil was created to be as pure and simple as possible:
Non-gmo Hemp Extract

Full-Spectrum Cannabinoid Blend

Flavoring From Natural Sources

Terpenes

Medium Chain Triglycerides (MCT oil)
(May contain trace amounts of hemp-derived THC <0.3%)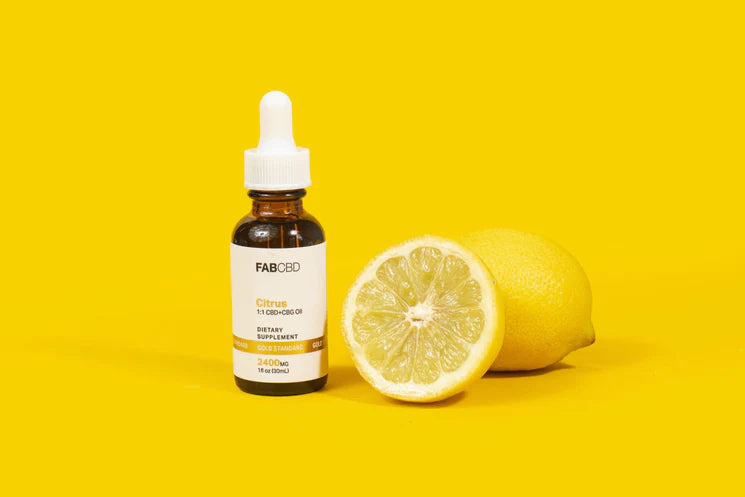 ONLY THE BEST CBG OIL
Our customers deserve only the best CBG oil, that's why we created our CBD CBG Oil with only the most pure, organic, effective ingredients like organic full-spectrum hemp oil. Our CBG Oil for sale comes in natural Mint and Citrus flavors, and in a 2400mg strength that's a combination of 1200mg CBD and 1200mg CBG. Because we also believe in being transparent, our products are regularly tested and qualified by an independent third-party lab. As if having the best products wasn't enough, we also have amazing customer service, a 30-day money-back guarantee, and free shipping on all orders above $99. It's never been easier to buy CBG oil.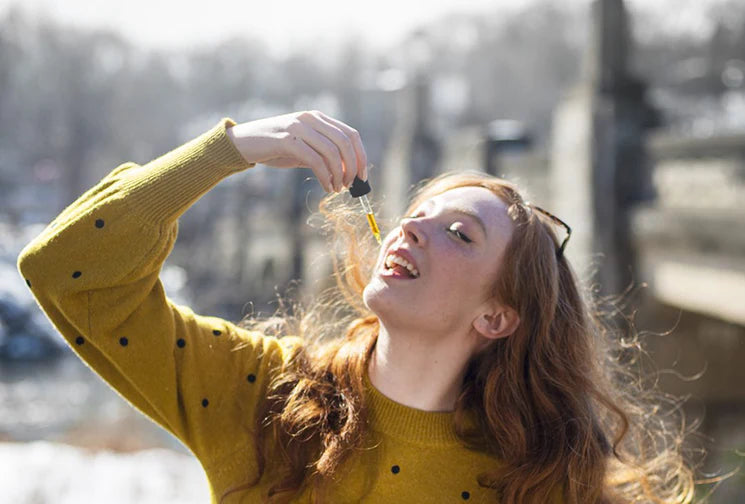 HOW TO USE FULL SPECTRUM CBG OIL
CBG CBD Oil is easy to take, so there's no reason to feel confused or overwhelmed. Before you open the bottle, give it a shake. Next, squeeze the rubber end of the dropper and release it while it's still in the bottle. When you pull the dropper out to look at it, it should appear to be about half full. This indicates a full dropper at 0.5ml. We need to note that the oil does not fill the entire dropper for a single dose. This amount of oil delivers 20mg of CBD and 20mg of CBG. Finally, disperse the oil directly under your tongue (sublingually) and hold it there for about 60 seconds. You can swallow the oil after that.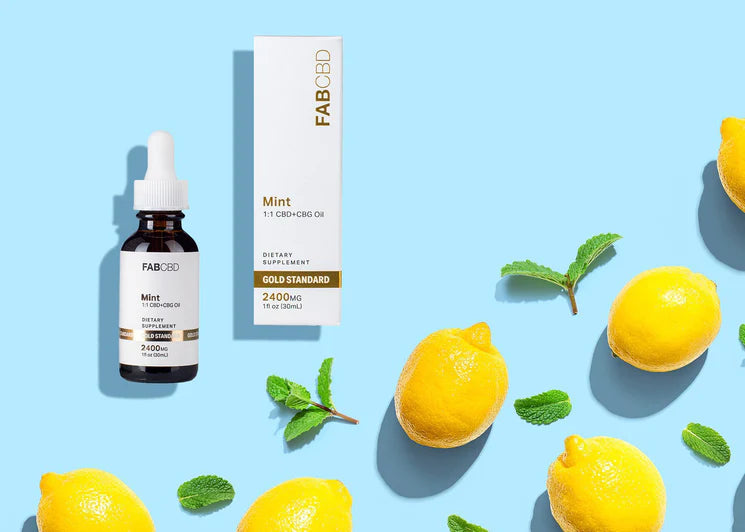 ONLY WHAT NATURE INTENDED
Our high-quality products like the CBG tincture are carefully crafted using natural ingredients. Therefore, the color can sometimes vary from one batch to another, but not the potency or quality! Our CBG for sale doesn't contain any harmful additives or dyes that other brands use in order to force a visual uniformity among product batches. Likewise, our
CBD and CBG
products are also free from dangerous herbicides, pesticides, solvents, heavy metals or other unwanted chemicals.
Frequently Asked Questions
CBG OIL FAQ
CBG oil is made by combining hemp extracts with a carrier oil (we use sunflower and coconut oils), and then adding natural flavor. CBG is a cannabinoid found in the hemp plant, just like CBD. Its full name is cannabigerol, and it is found in higher quantities in younger hemp plants. It's often referred to as the mother of all cannabinoids, because other cannabinoids are derived from its acidic form, CBGA.
We think our CBD+CBG oil is the best because it's clean, potent, and made with high quality ingredients. Third party lab results are available to view, so you can feel confident about your purchase.
FAB CBD+CBG Oil contains equal parts CBD and CBG (1200mg each per bottle), natural flavoring (citrus, mint, or plain), and MCT oil.
With CBG oils in general, there is not one perfect dose for everybody. Therefore, a dose that works well for one person, might not work that great for someone else. You should start low and go slow to find the best dose for your body. A good procedure to follow is to take a half a dropper full of oil once a day for about a week.
We sell our CBD+CBG Oil in 2400mg bottles. We chose this strength because we wanted to pack lots of CBD and CBG into this product so that it could really be a heavy-hitter in your cannabinoid line-up.
We sell our CBG Oil in three flavors: Citrus, Mint, and Natural (unflavored).
Within the US, you can fly with CBD gummies as long as they're from hemp and contain less than 0.3% THC (which ours do).
Shipping typically takes 3-7 business days to arrive. However, since COVID-19 we are seeing some longer delivery times in certain areas or during busier times of the year. Shipping may take up to 10 business days. If for any reason your order doesn't arrive in that timeframe please email support@fabcbd.com and we'll be happy to help!