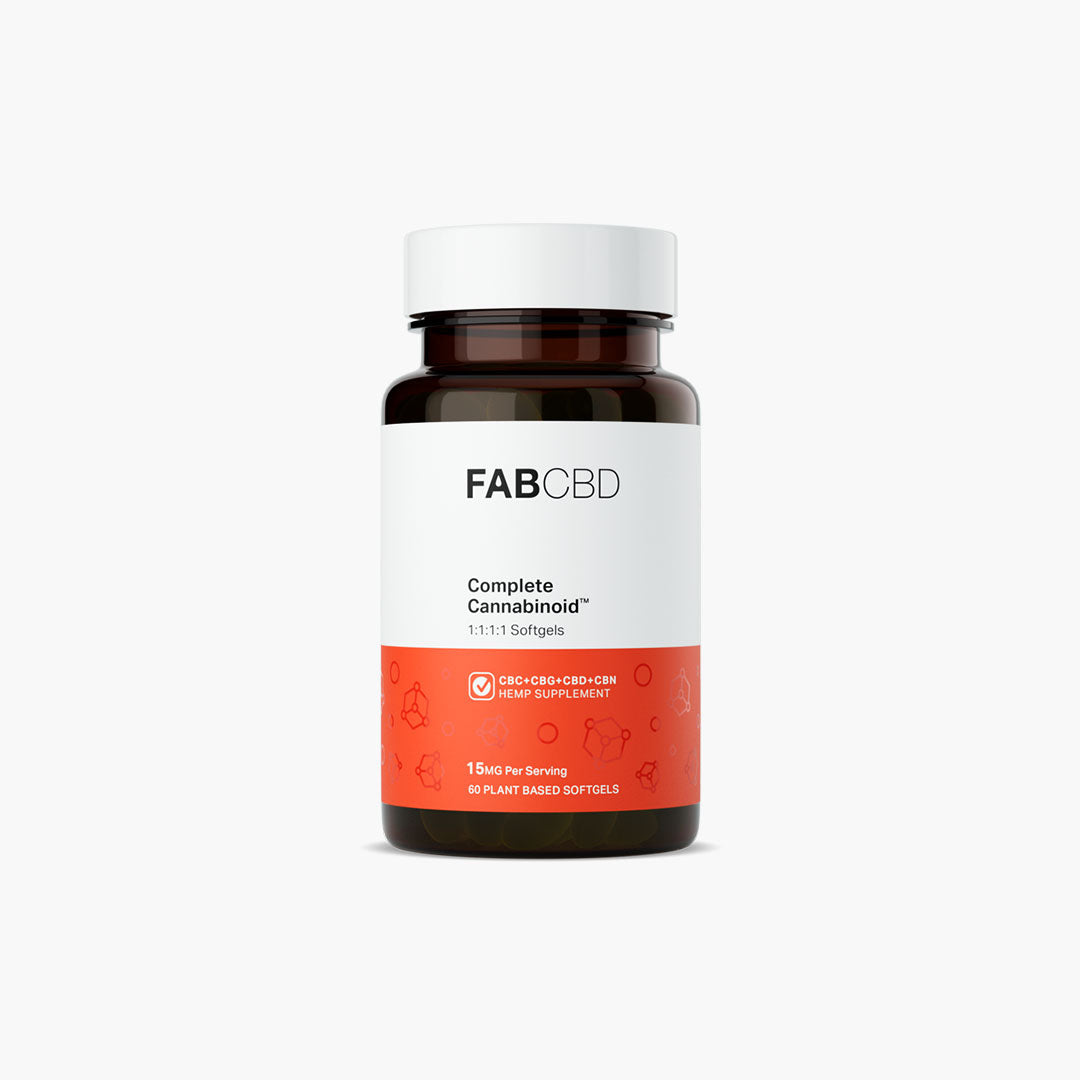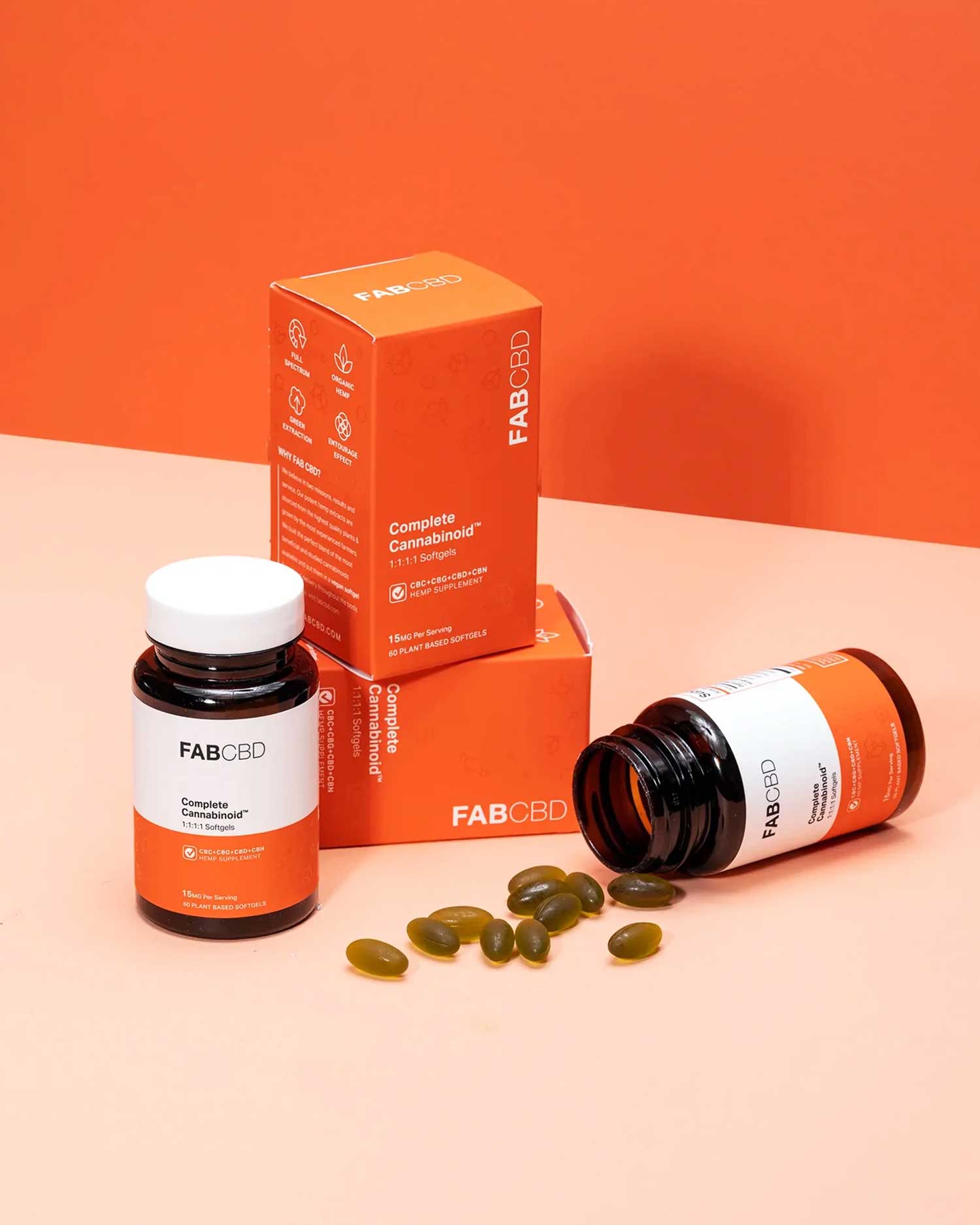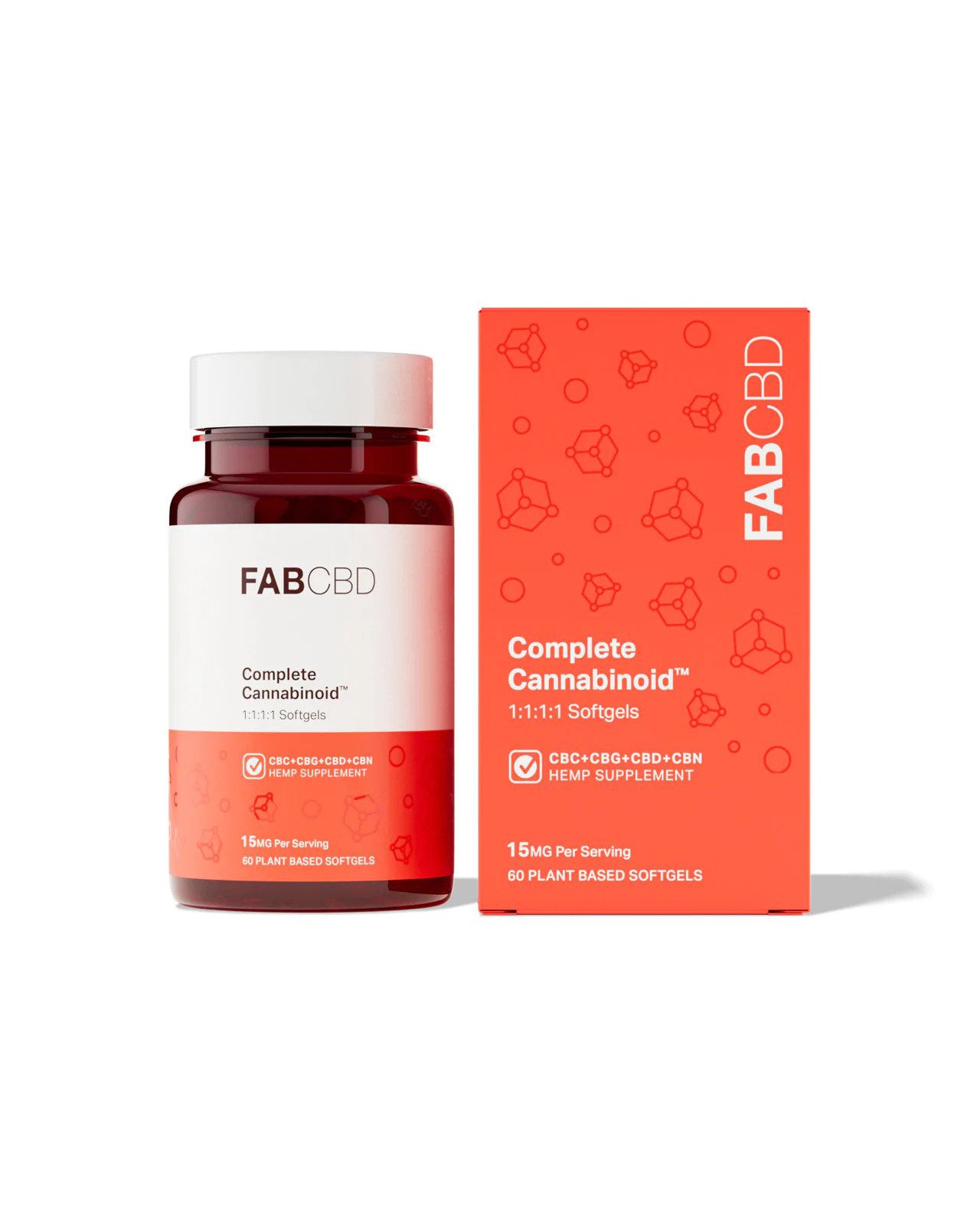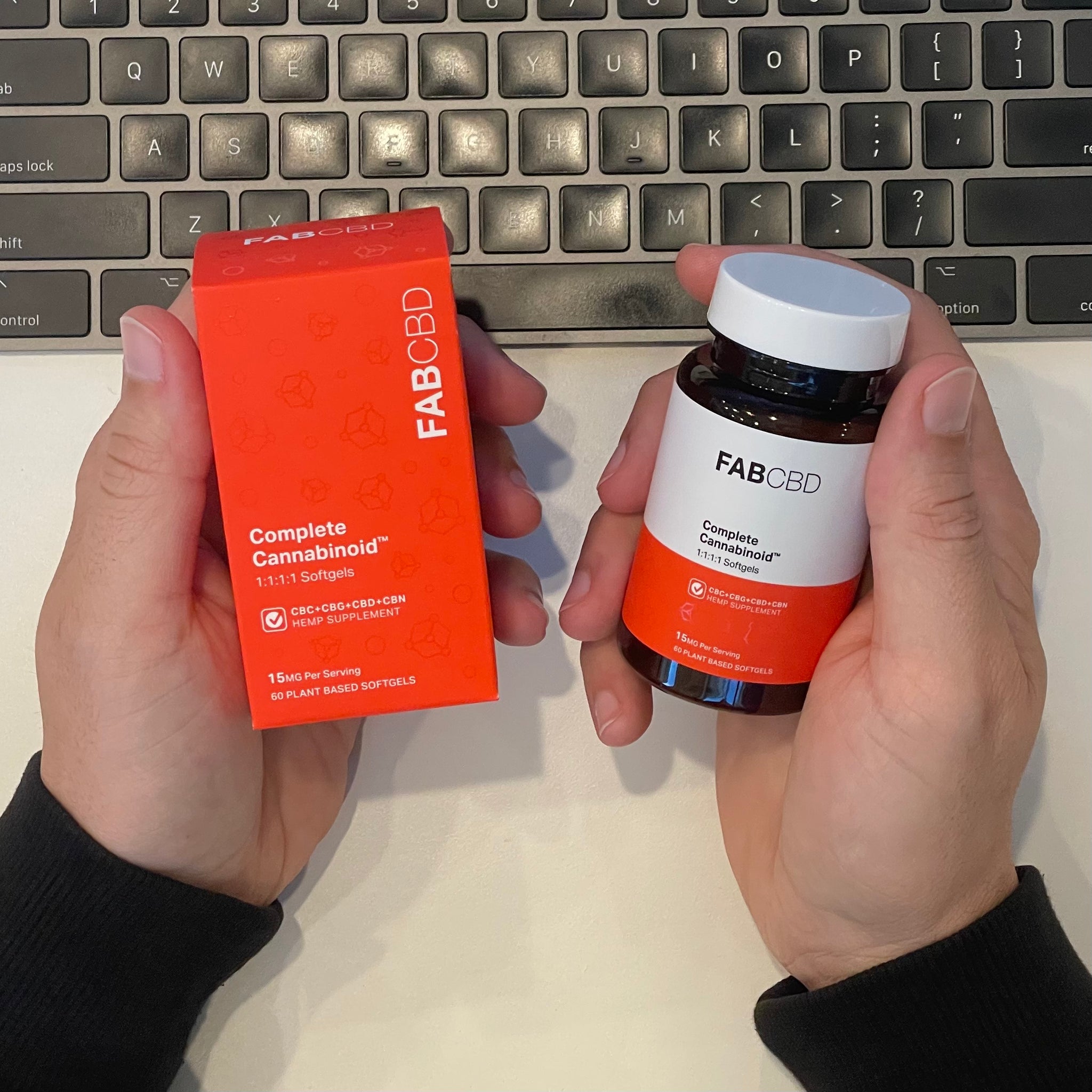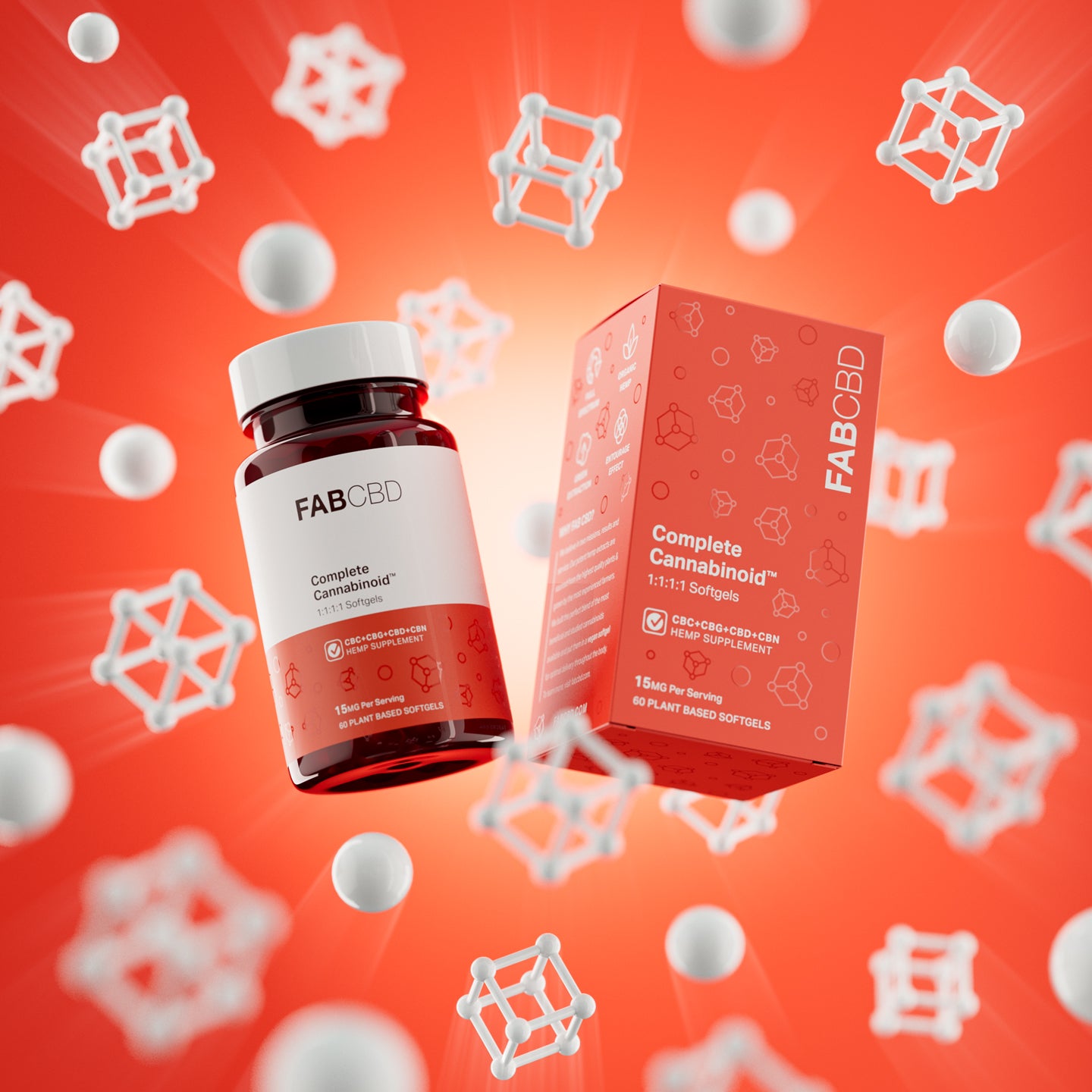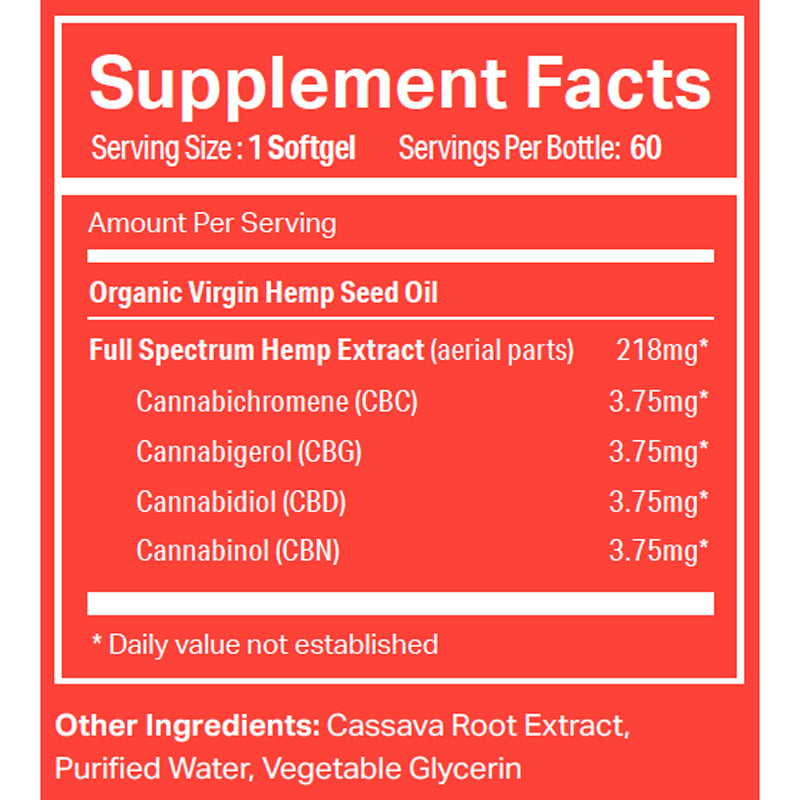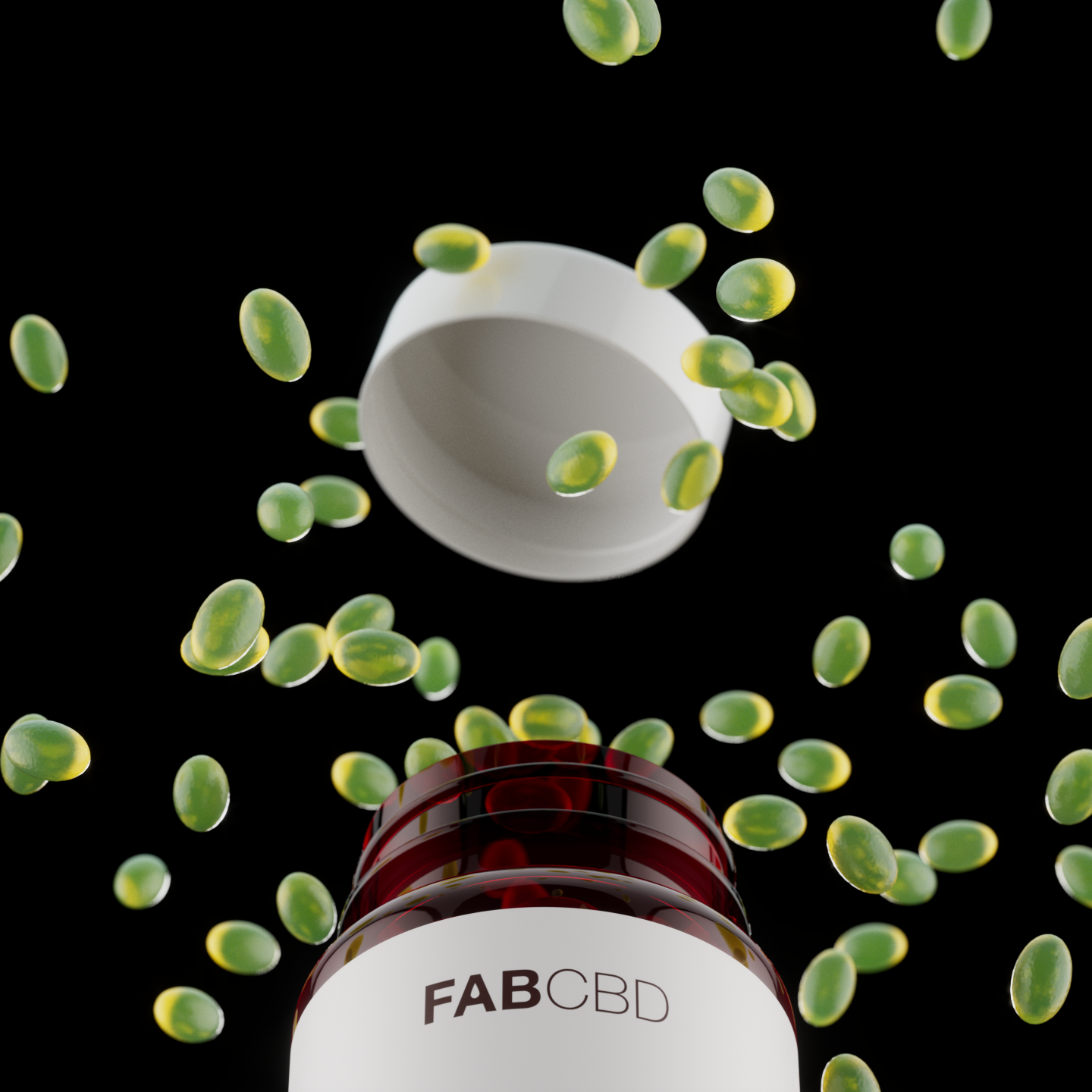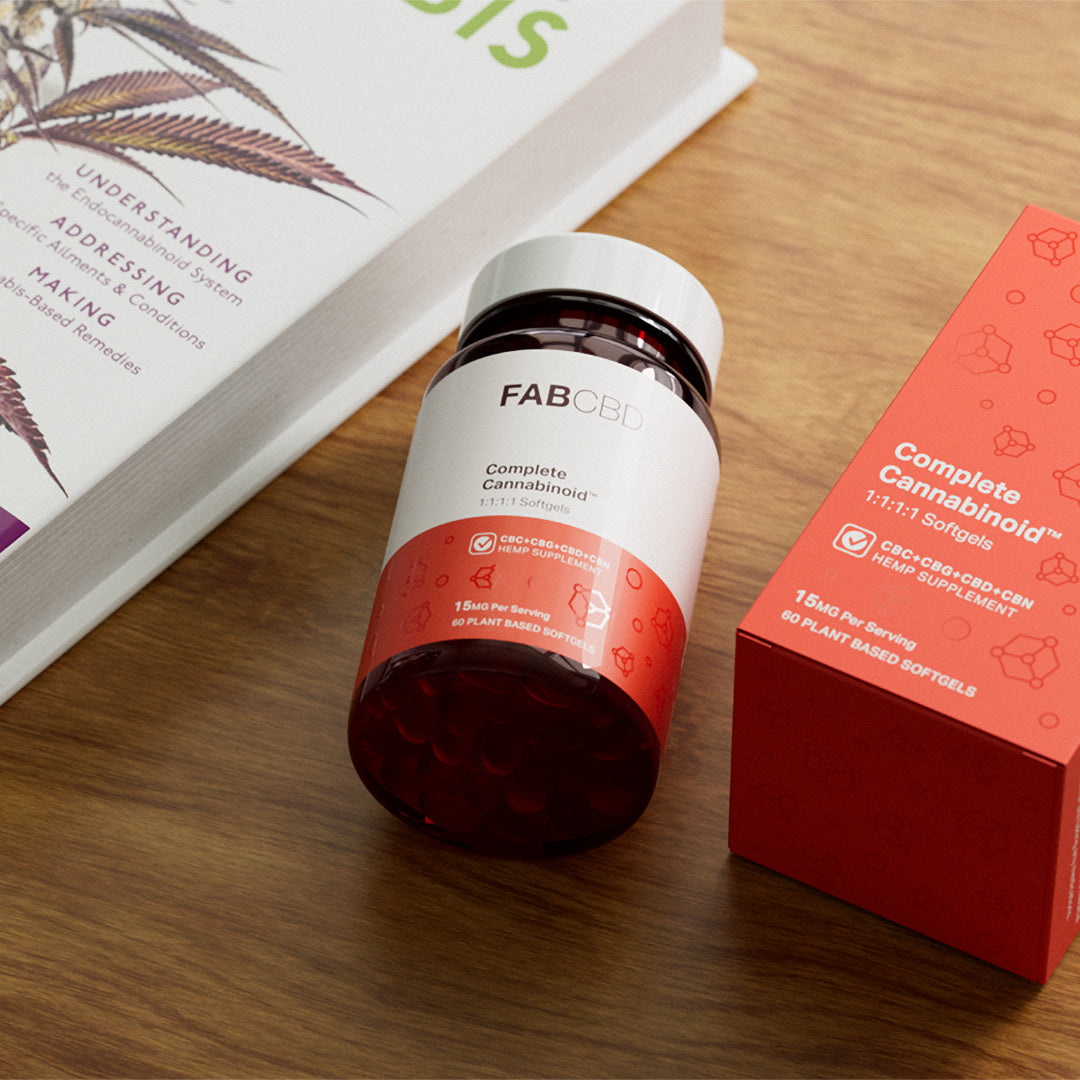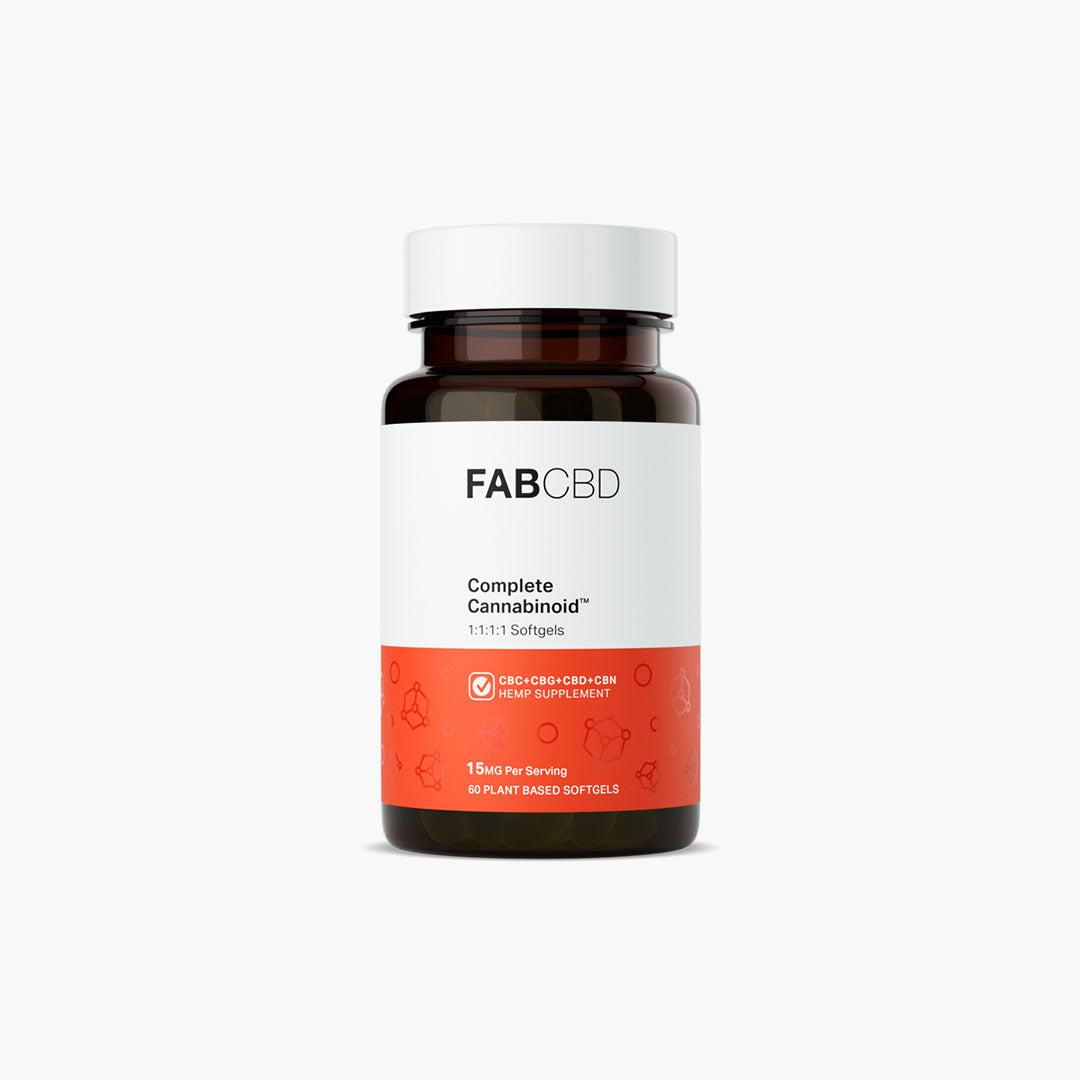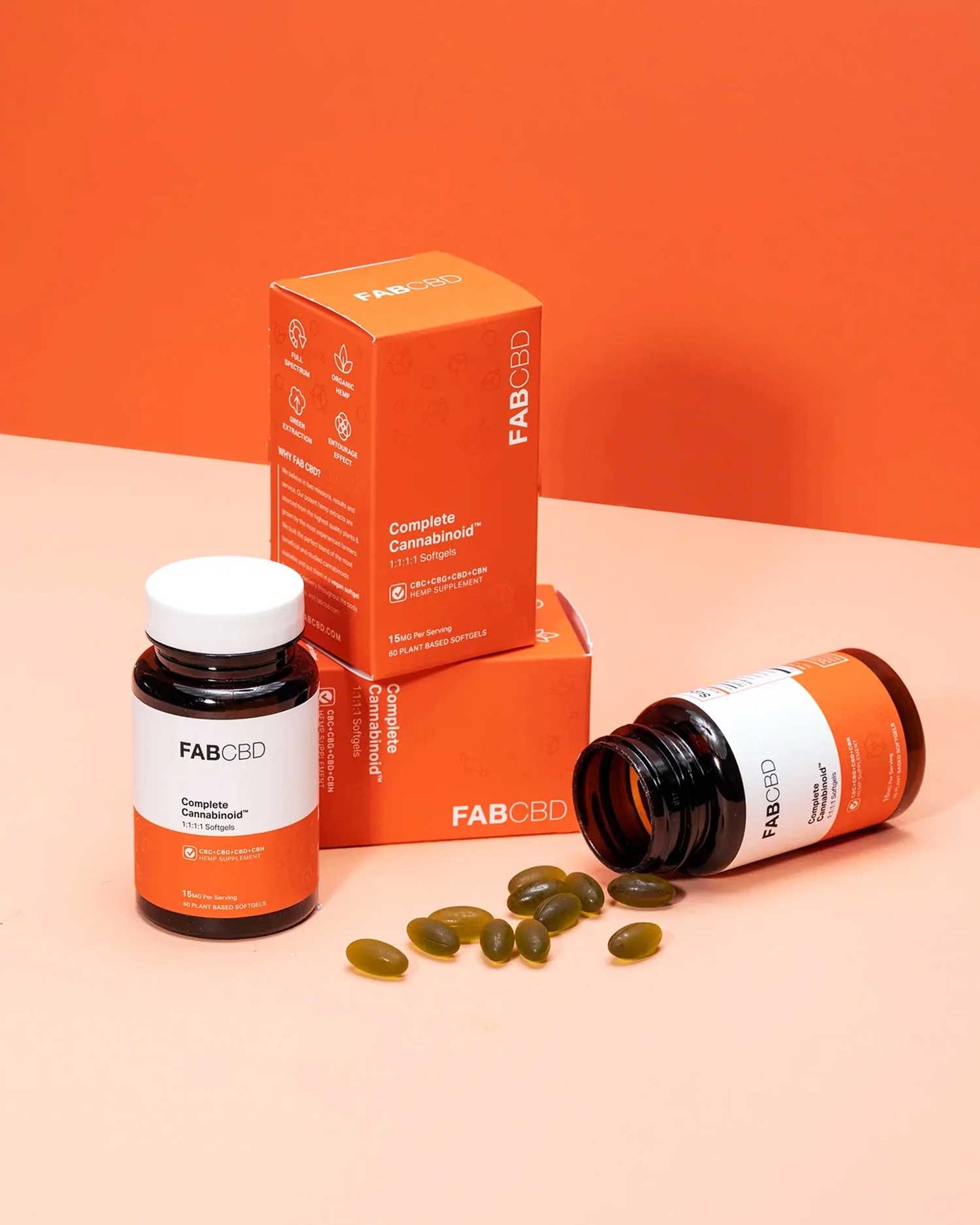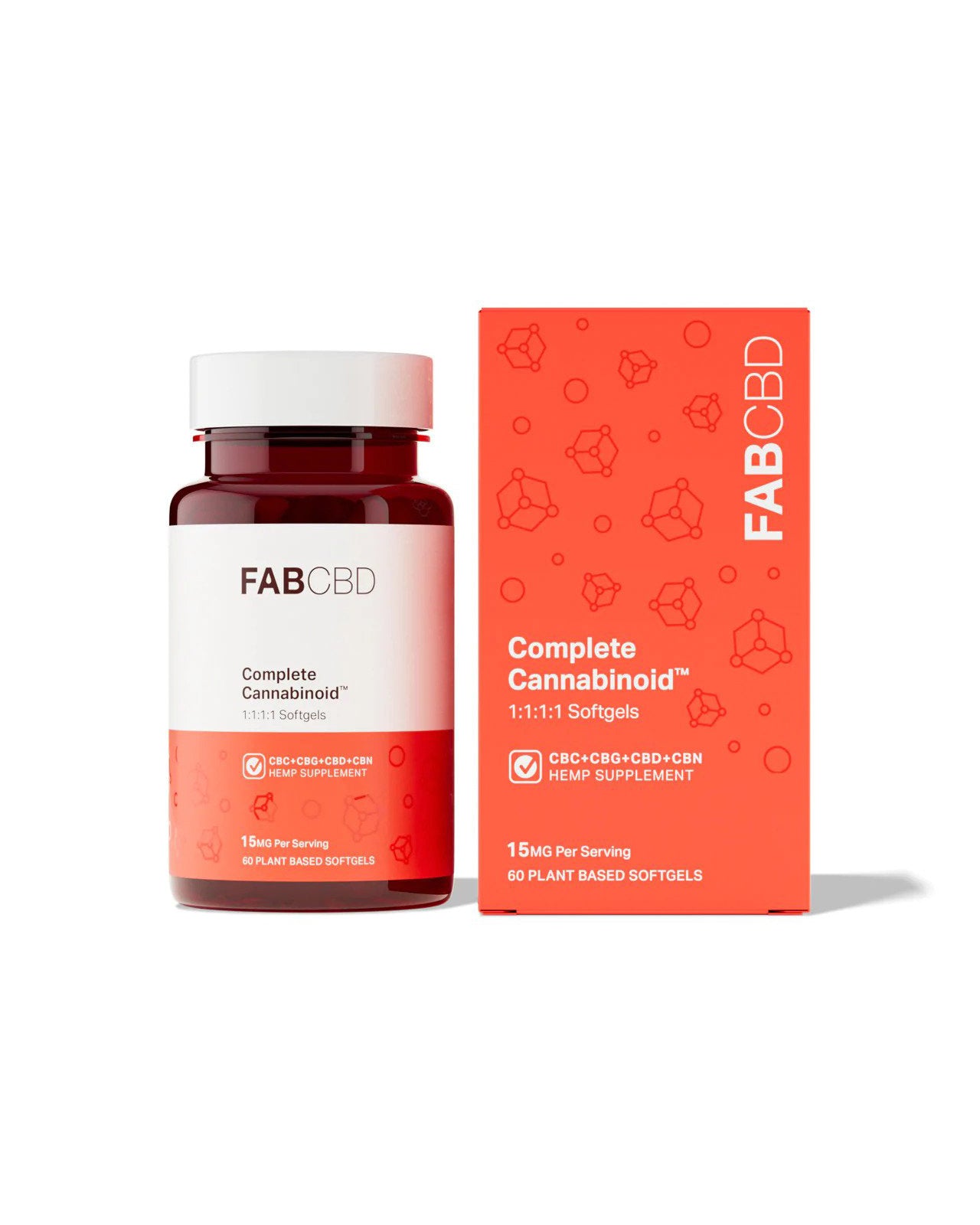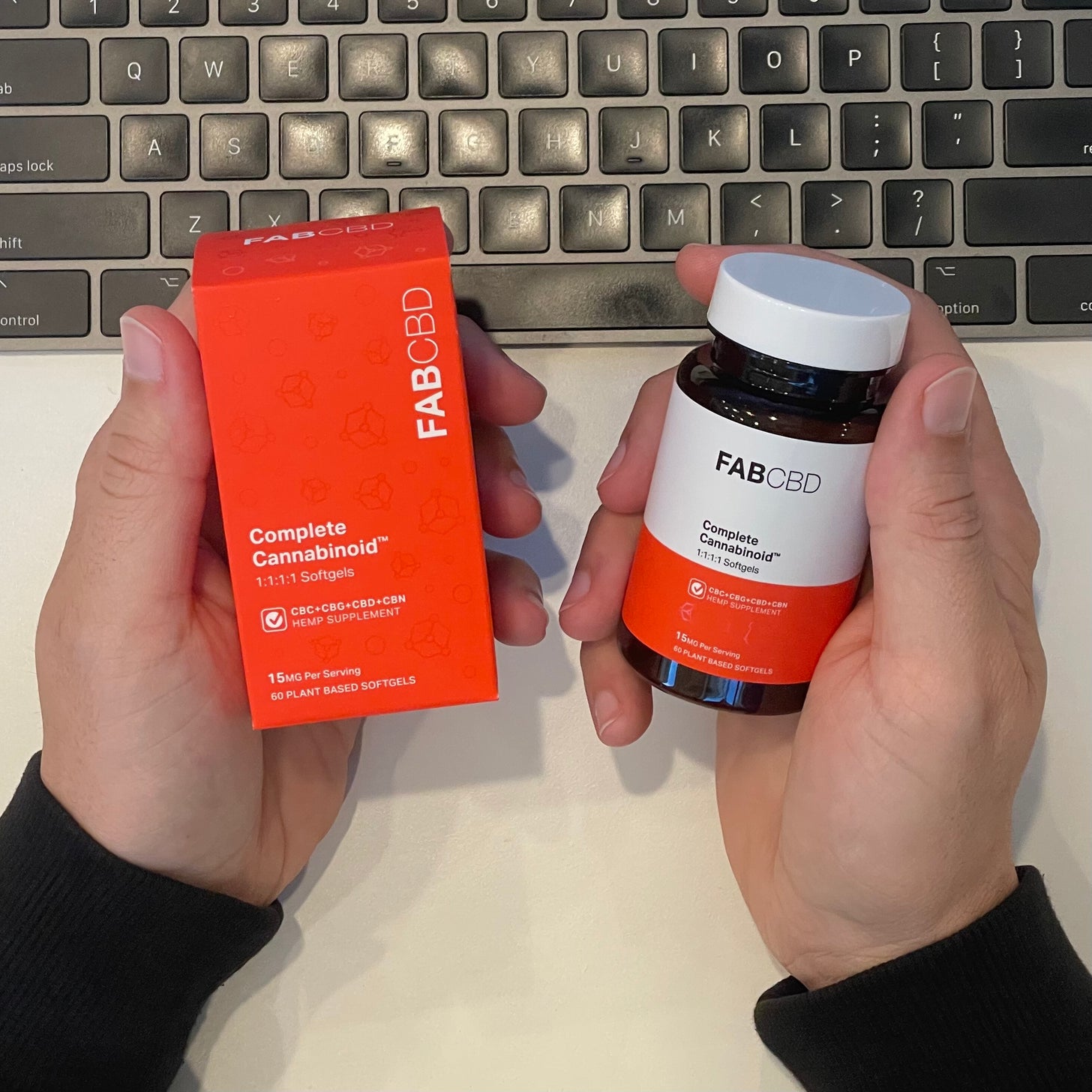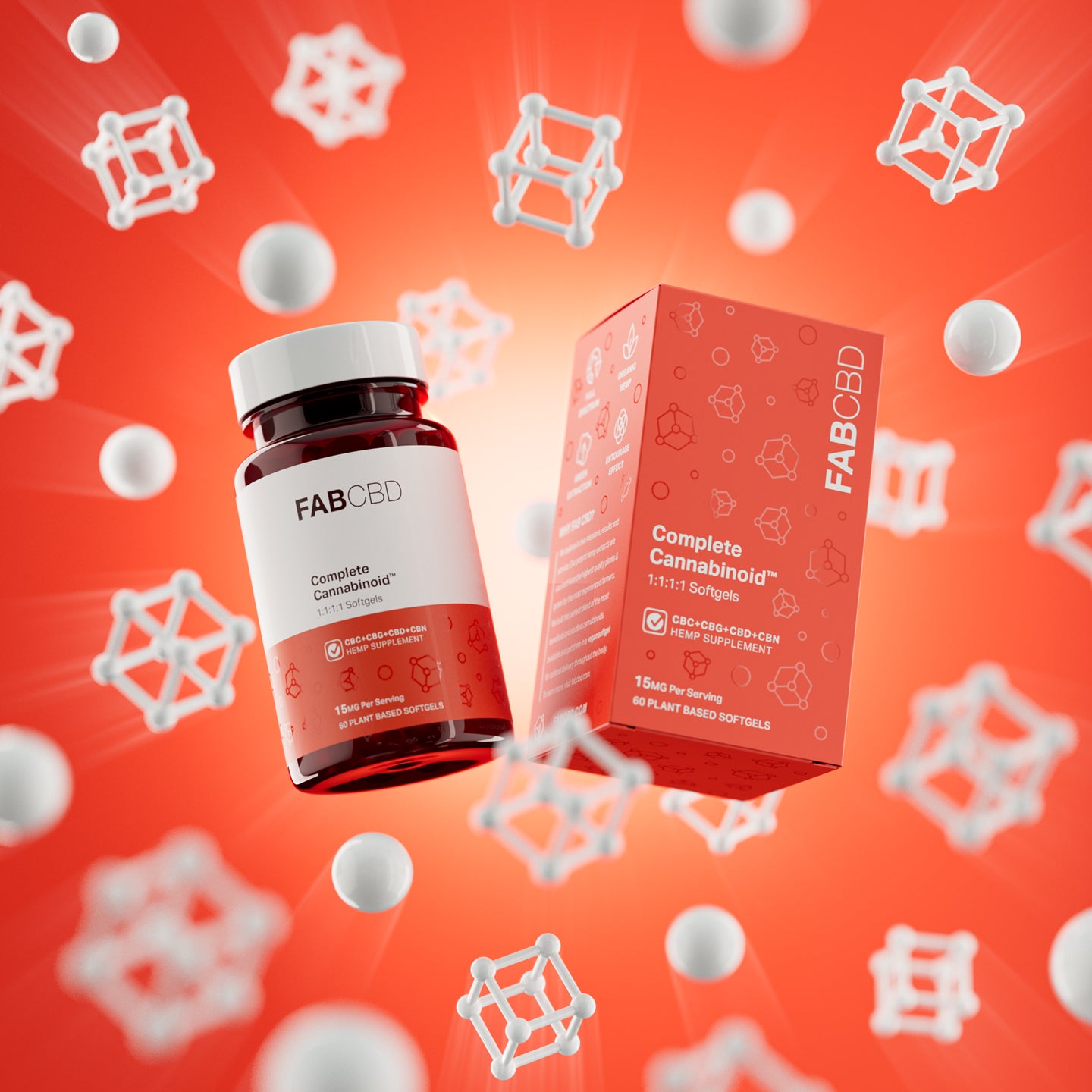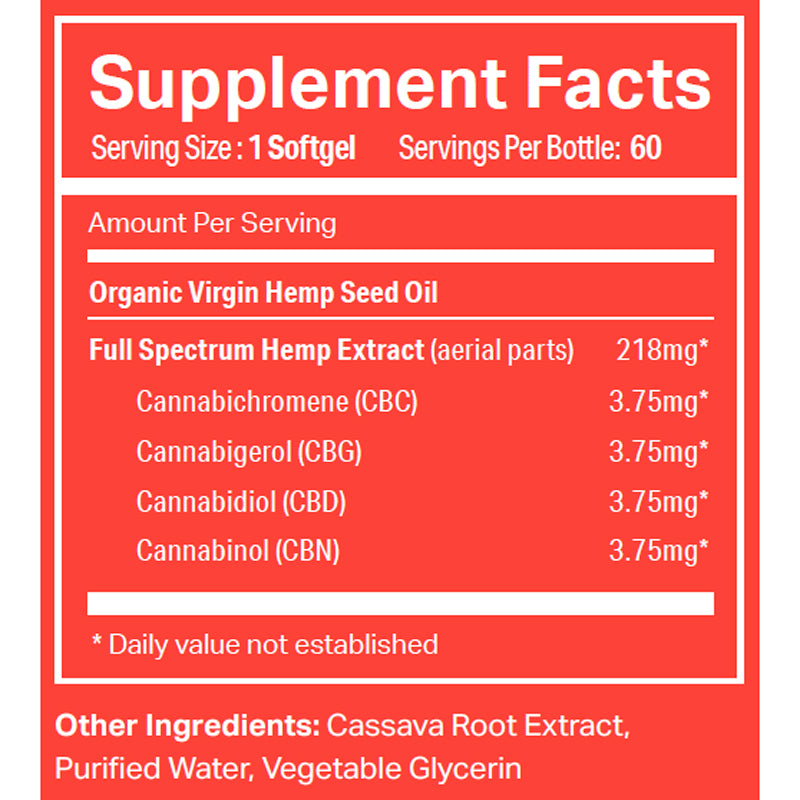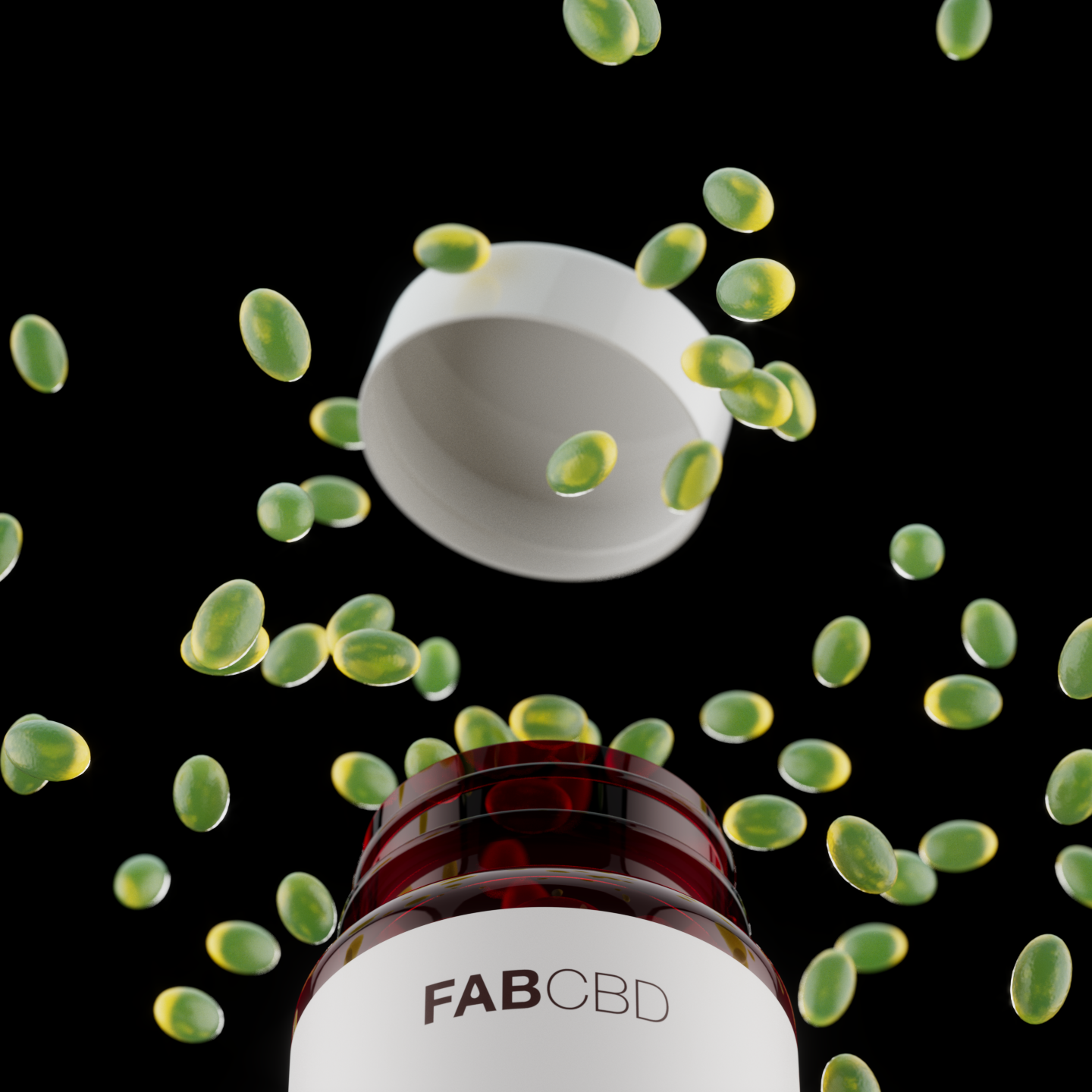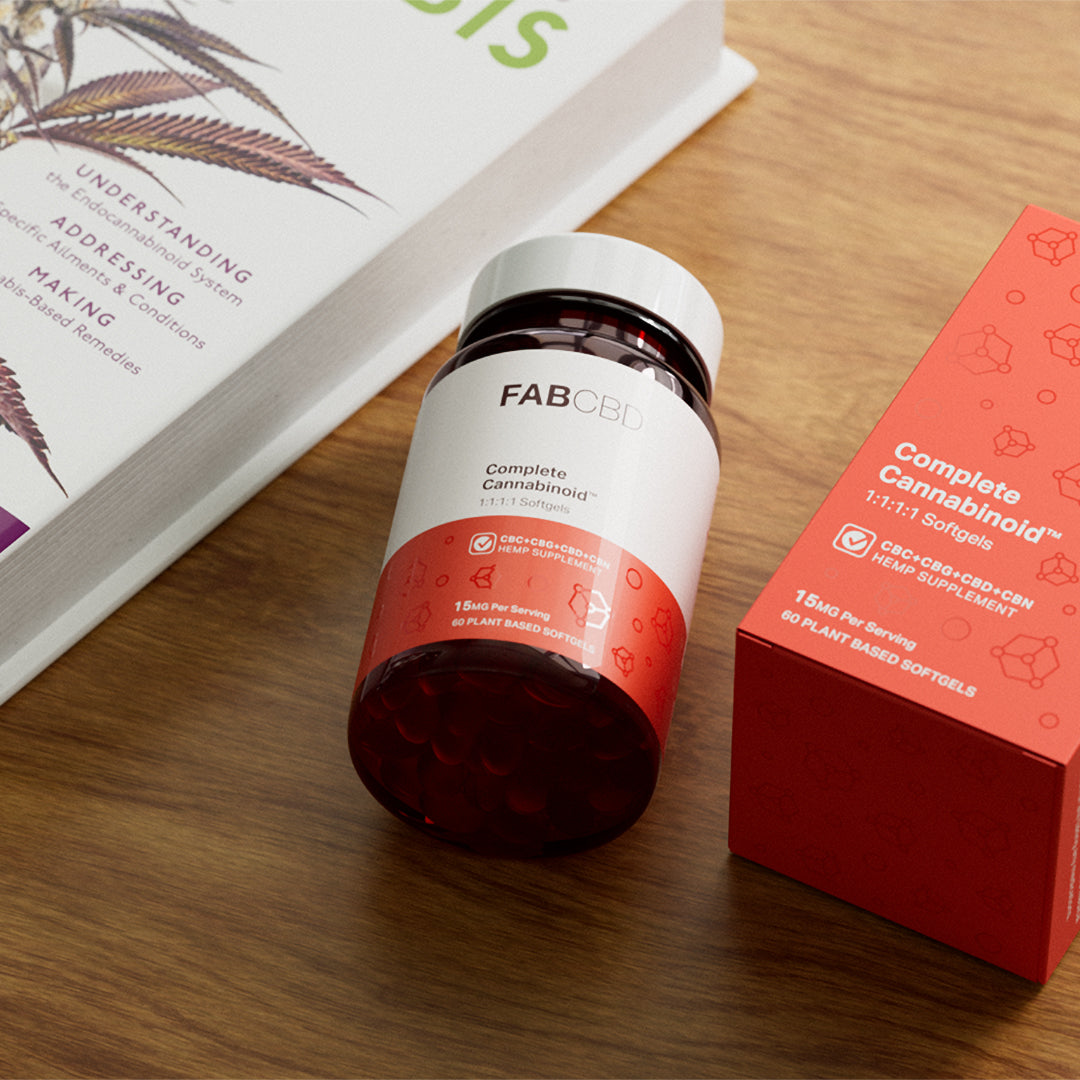 Complete Cannabinoid CBD Softgels
Introducing the Complete Cannabinoid™️, the mother of all things cannabinoid products, the "cannabinoid multi-vitamin". A world's first, a game changer, a modern marvel, an essential Cannabinoid supplement, an over all better option. With equal parts CBG, CBD, CBN, and CBC, we didn't hold back with this innovation. Whether you're looking for a way to get your CBD without any taste of hemp, or you've been waiting for a 4-in-1 product, this one's for you.
Secure & Trusted Checkout with
Secure
Checkout
Free Shipping
Above $99
30 Days
Moneyback
"I love taking CBD, CBG etc. but I don't like to taste it in oil or gummy form. These gel capsules are perfect for me!"
A truly one of a kind cannabinoid product! Never before seen 1:1:1:1 CBD, CBD, CBN, CBC packing into one softgel. The best cannabinoids to date. The exact same dose every single time. This is the "multi-vitamin" for cannabinoids. Day or night, these are an amazing option.
Full Spectrum Hemp Extract (aerial parts), Cannabichromene (CBC), Cannabigerol (CBG), Cannabidiol (CBD), Cannabinol (CBN), Organic Virgin Hemp Seed Oil, Cassava Root Extract, Purified Water, Vegetable Glycerin.
Take 1-2 daily or as needed to provide the result desired. Store in room temperature away from direct sunlight. Adjust serving size if necessary. Individual results may vary.

Caution: keep out of reach of children. As with any dietary supplement, consult your physician before use, if you are pregnant, nursing, have or suspect a medical condition or are taking any medications.
WARNING: Consuming this product during pregnancy exposes your child to delta-9-THC, which can affect your child's behavior and learning ability. For more information go to www.p65warnings.ca.gov/cannabis.

Free Shipping on Orders Above $99

Secured Payment & Checkout

30 Day Money Back Guarantee

Easy Returns

Free Shipping on Orders Above $99

Secured Payment & Checkout

30 Day Money Back Guarantee

Easy Returns
PROPER
SERVINGS

PESTICIDE
FREE

CANNABINOIDS &
TERPENES

NON GMO
SOURCES

ORGANICALLY
GROWN

FARMED IN
COLORADO
96%
would recommend this product
Victoria M.

Verified Buyer

I do not recommend this product

Disappointed

I didn't feel any difference taking them.

F

FABCBD

3 weeks ago

Thanks so much for your feedback, Victoria. Please feel free to reach out to our customer support team via support@fabcbd.com if you have any further concerns or questions.

Jonathan T.

Verified Buyer

Best CBD

This is hands down the best quality CBD I've found. Highly recommend it.

F

FABCBD

3 months ago

Thank you so much for your feedback, Jonathan. We appreciate your review!

Julianna K.

Verified Buyer

Works GREAT

So much better than all the other brands of cbd I have tried this one actually works and you can tell a big difference

F

FABCBD

3 months ago

Thanks so much for your feedback, Julianna. We are happy to hear you enjoy it!

Complete Cannabinoid CBD Sftgels

I love them. They are so convenient to take along when you go away for a day or so - or probably for longer than that!

F

FABCBD

5 months ago

We love to hear it, Sharon! Thanks so much for sharing!

Complete Cannabinoid softgels

Very good product! Excellent company!

F

FABCBD

6 months ago

Thanks so much for enjoying our multivitamin of cannabinoids! We appreciate your feedback!

Easy to take!!

They are easy to take and work wonders!!

F

FABCBD

6 months ago

We are so happy to hear you are enjoying the effects of our Complete Cannabinoid! Thank you for your feedback, Sammy!

Calming

Helps me to get a full nights rest

F

FABCBD

6 months ago

Thanks so much for your feedback, April! We really appreciate it!

Review

I like the softgels over oil because I don't have to taste or smell of oil! 👍

F

FABCBD

7 months ago

So glad you found a product that you can enjoy every day! Thanks so much for your feedback, Min!
Reviews Loaded
Reviews Added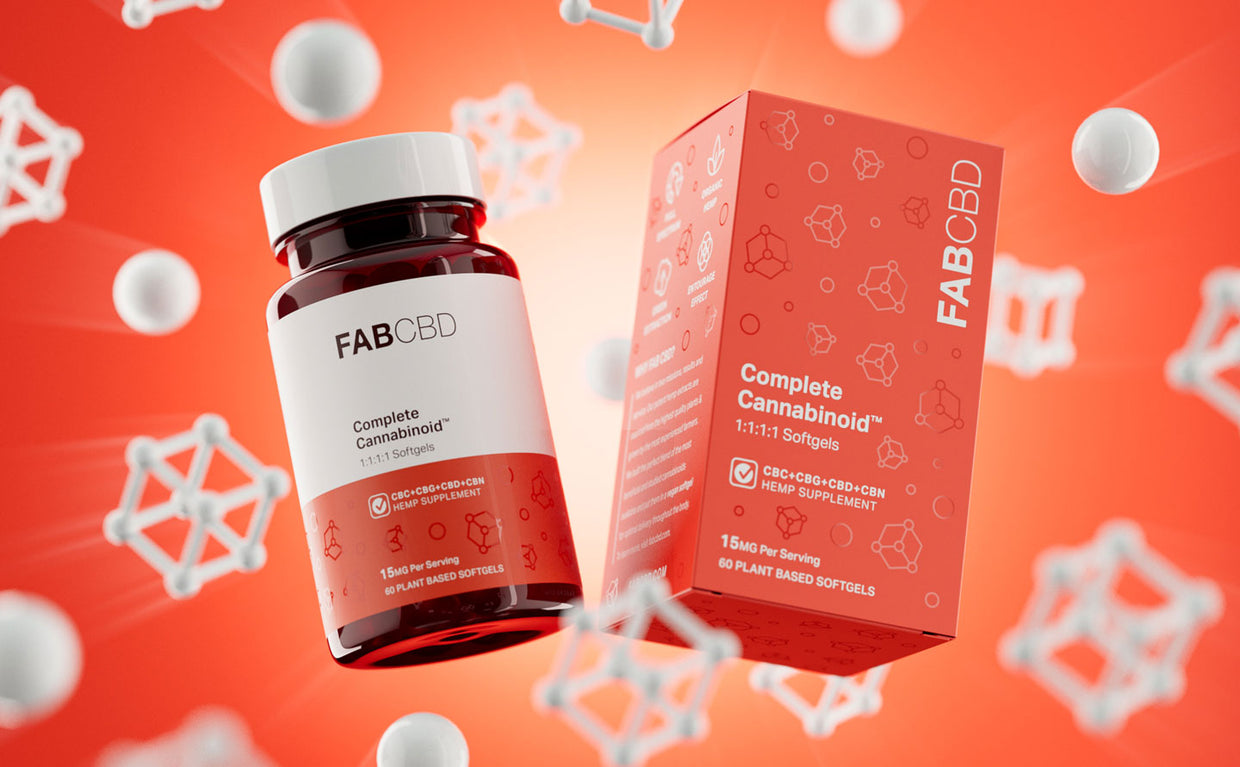 CREATING PRODUCTS THAT CHANGE THE GAME.
Getting enough sleep is essential for helping a person maintain optimal health and well-being. In fact, it's as vital as regular exercise and eating a balanced diet. Sleep enables the body to repair and be fit and ready for another day. Getting adequate rest may also help encourage health benefits like prevention of excess weight gain, heart disease, and increased illness duration!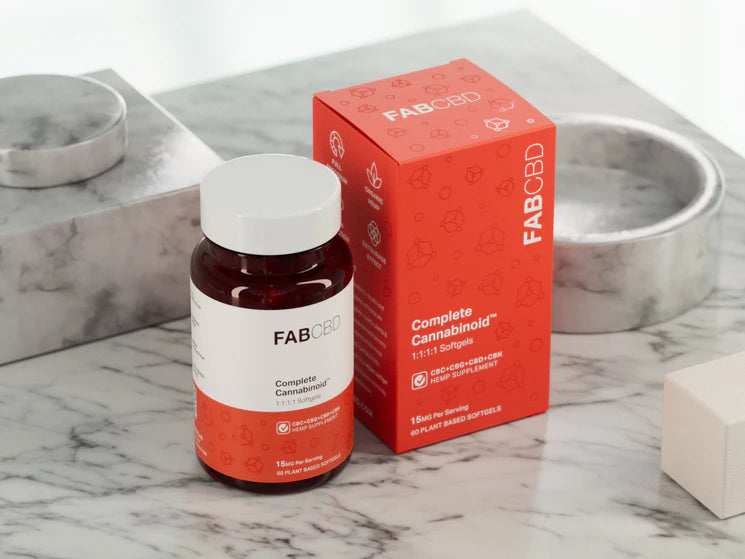 WHY IS THIS SO SPECIAL? OMG, WE'RE SO GLAD YOU ASKED...
For decades, the only way to produce a softgel has been with the use of gelatin. Yuck. Honestly, that's why we've never made them. Now, we are one of the only companies in the world with the ability to produce VEGAN softgels! YES! Another ground breaking discovery we made was in regards to the other essential cannabinoids, like CBG, often referred to as the "Stem Cell" cannabinoid, as well as CBN and CBC. "By our powers combined, we are COMPLETE-CANNABINOID™"! (Captain Planet reference)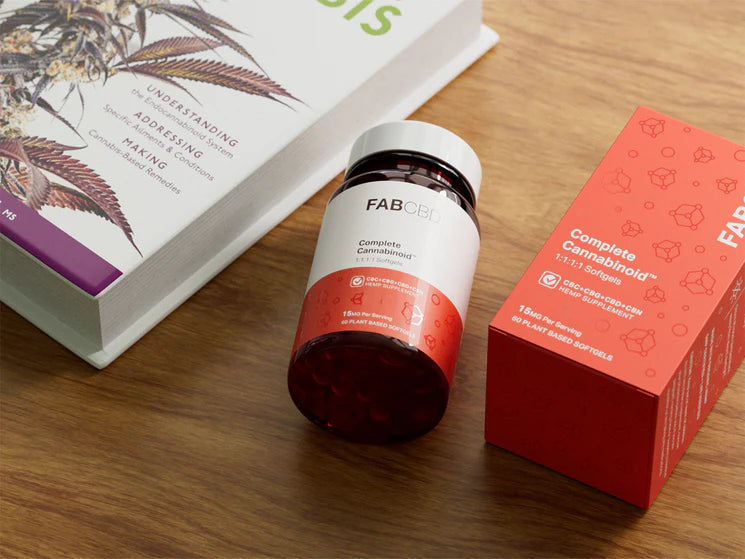 UNLIKE ANY OTHER.
We made two huge breakthroughs with this product. By using a softgel for your daily serving, you're getting the exact amount of cannabinoids every single time. Equal ratios of each of these powerhouse cannabinoids. CBD:CBC:CBG:CBN all in one product. This product is superior to anything else in its class. Period. We just became more than a CBD company. We'd like to think we specialize in cannabinoid product development. Serving 200,000+ customers and growing. We're having a blast and learning so much from you along the way.
Frequently Asked Questions
COMPLETE CANNABINOID CBD SOFTGELS FAQ
CBD softgels, sometimes referred to as CBD capsules or CBD pills, are a CBD supplement for oral use. They offer a tasteless, easy, and convenient way to consume CBD with a consistent dosage, making them perfect for incorporating into your daily routine.
CBD softgels offer various potential benefits, from pain and anxiety relief to improved sleep quality and overall well-being. They are perfect for those who dislike the taste of CBD oil or who don't want to deal with measuring each dosage of CBD. Our complete cannabinoid softgels offer the added benefit of multiple cannabinoids, including CBG, CBN, and CBC, so you get the full benefit of a multi-cannabinoid product.
Like other CBD products, CBD softgels interact with the endocannabinoid system (ECS), a network of receptors in the body that help regulate certain functions. CBD and other cannabinoids bind to certain receptors in the ECS, which may result in a range of effects and benefits.
FAB CBD's softgels are made using 100% organic hemp, making them legal nationwide. However, certain states and locales have varying degrees of legality surrounding cannabinoid products, so we recommend looking into specific regulations in your area before purchasing CBD capsules.
The ideal CBD softgel dosage can vary between users and depends on various factors. Our complete cannabinoid CBD softgels are precisely dosed at 3.75mg each of CBD, CBG, CBC, and CBN for a total of 15mg of cannabinoids per capsule. We recommend 1 - 2 capsules daily, depending on your individual needs.
While we're confident that our complete cannabinoid softgels won't cause any side effects, we can't make any guarantees. Most users report no adverse side effects to our CBD products, but in rare cases, they can occur and may include fatigue, appetite changes, and dry mouth. If you experience any of these or other undesired effects from our products, discontinue use and consult your doctor if necessary.
While CBD softgels are not approved by the FDA for treating specific conditions, many users report that they help alleviate various symptoms. These may include relief from chronic pain, anxiety, insomnia, and inflammation. More broadly, CBD may improve overall well-being and homeostasis when taken regularly. Research surrounding the potential therapeutic benefits of CBD is ongoing, and we may not yet know the full benefits of cannabinoids.
Although rare, CBD can be known to cause complications with other medications. FAB CBD recommends that first-time buyers or those who have recently started a new medication consult their healthcare provider before starting a CBD regimen.
If you're looking to buy CBD softgels, you're right where you belong! FAB CBD softgels contain the added benefit of multiple other cannabinoids, including CBC, CBG, and CBN, to provide an even more comprehensive range of potential benefits. Each bottle contains 60 plant-based, vegan softgels for a one-month to two-month supply for daily use, depending on your needs.